Workfront is a project management software that automates workflows across departments and teams. The software also aids in streamlining digital asset management. It features portfolio management, document management, and enterprise work management. Workfront is best suited for enterprise departments and teams in product development, professional services, information technology, and marketing industries.
It offers industry-specific solutions that help to manage work across enterprises. As such, the software provides unmatched features that go beyond project management. The platform helps to keep track of assets and performance metrics. It supports communication and collaboration, which is a great way to enhance performance and production. To get started, you need to sign up https://www.workfront.com.
There are several amazing features that the app offers. Whether you are running a department or a big enterprise, Workfront will offer you great functionality to make your work easier. 
Features
The feature gives you a chance to work together seamlessly. There are Facebook-like threads to help each of the team members keep track of what they should do. The app also provides notifications that allow members to get prompts whenever they are required to do something.
Larger teams may have some remote workers. Workfront mobile apps help you work from any location. You can download the app on the phone and get started. On the app, workers can upload tasks, assign work, approve decisions and submit a request. 
Reports are important in project management. Workfront offers you a platform where you can quickly generate reports on projects in real-time. You will be able to track your budget and time when you customize your dashboard. 
IT professionals can utilize Workfront to run their projects. The feature allows you great utilities like bug tracking, milestone tracking, product road mapping, status tracking, issues management, percent-complete tracking, supports Scrum and many other features. IT projects also get a big boost by allowing the inclusion of creative types like HTML pages. The integration of apps like JIRA is also an added advantage for IT professionals. 
Sometimes you may have issues sending approvals to the right stakeholders. However, this feature ensures that you send your authorization to the right stakeholders. The feature helps to double check information to ensure that the recipient of the data receives accurate information. The feature is important to prevent serious mistakes that can jeopardize a project.
When preparing for a big project, managing team members can be a painstaking process. However, the app offers you a great deal of help in organizing workers. They will only need to fill in their details and skills, and the app will be able to help you make assignments for the work based on the skills. The app ensures that each task is assigned to a member according to their expertise and availability. Proper allocation of work makes a project effective and timely.
It is always important to make a plan for a project. On the contrary, planning can be time-consuming. However, the project automation feature does all the planning for you. The automated project templates give you an easier time introducing the project to your team and even getting started. 
Milestones are goals set for certain tasks within a certain period. You can create milestones for the project and keep track of whether you will reach a certain milestone within a specified period. The feature is important in quantifying creative work. 
When you are falling behind schedule, the app will give you an update. Similarly, when you meet all the milestones before the expected timeline, you will be notified. 
You can easily customize each template to fit your project. Each template allows you to include the important parts of your project. You are permitted to make changes to each template as you would wish. The app will adjust everything to accommodate your changes.
Tracking the expenditure for a project is equally important for every business. With the Workfront platform, you will track how much money you have spent on the project. When running a project, money is an important factor. 
Additionally, you can compare the profit margins in every project. You will be able to know whether you are saving more or making losses through a certain task and make informed decisions on the way forward.
Every employee gets a to-do list from the app. You will have an easier time keeping every contributor up to the task as they already know their expectations. The app also allows each member to learn which tasks are highly prioritized, making it easier to complete urgent tasks. Moreover, a to-do list allows you to make updates and reassign tasks according to employees' availability. 
The initial stages of a project could benefit from Workfront's demand management feature. The feature utilized custom forms, automated request queues enabling you to set the project on motion and delegate tasks to each member. The feature ensures that you do not have to keep sending several messages to inform team members of the project and their duties.
When you sign up on any platform, you may experience difficulties. Workfront support offers you help when you feel stuck. You also get access to documents and videos on how to use your platform. The app is powerful and loaded with several similar features. Support is available to help you make the best use of every component. 
Workfront allows you to incorporate several other apps with the platform. However, the apps are limited to the type of plan that you select. The most common integrations include Box, Dropbox, Google Drive, Slack, Microsoft teams, Microsoft one drive, Sharepoint, Salesforce, JIRA and GSuite, Adobe Creative Cloud and Adobe Experience Manager. 
The feature allows you to track comments and version updates. With that, you can return feedback on action items and action items. 
You need a secure space where you can store information. With everything you can do on the site, you want to ensure that your data is protected from fraud and theft. Therefore, Workfront ensures that you have a secure space. It ensures that you get top range security features like whitelisting IP addresses, audit rights and encryption at rest. 
Plans and Pricing
The Workfront platform offers four plans namely Team, Pro, Business, and Enterprise. The prices of these plans are not published; they are only available on request. This is because Workfront accounts are customized based on the specific need of every organization. There is an option to request pricing under each plan. According to Workfront customer reports, organizations pay $30 to $40 per month for every user.
You gain access to the platform by paying for any of the plans. You need to pay for a Workfront license for every user account. You have to purchase the minimum licenses set for some plans to gain access.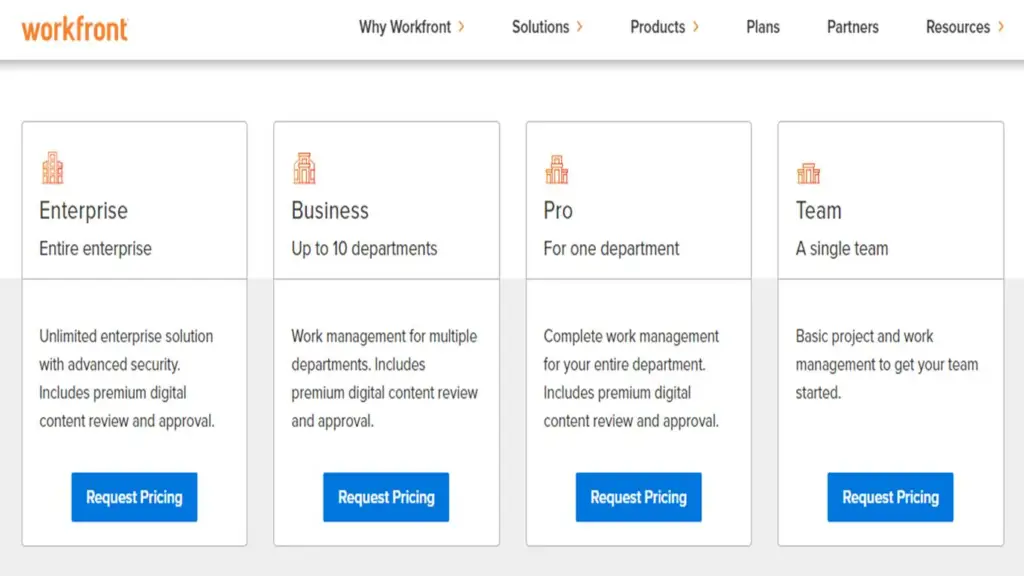 This plan is ideal for a single team. The Team Plan offers a wide range of features like custom forms and logic, dashboards, document reviews, and project templates. The plan allows integration of apps like Slack, Web dam, Dropbox, Box, Sharepoint, Microsoft team, Microsoft One Drive, Calendar, Outlook, Google team and Google drive. 
Pro is suitable for running projects for a department. The plan provides agile views, automated approvals on requests, and AI-enabled scheduling for departments. When you purchase a pro plan, you can add all the allowed apps.  However, you can only access some of them at an extra cost. Some apps that you can include at no cost are JIRA, Salesforce, Document Webhooks, and Adobe Creative Cloud. You will need to pay for apps such as Workfront Fusion, Adobe Experience Manager, and Rest API. 
If you are running a small to medium enterprise with up to 10 departments, you can go for the Workfront Business Plan. The plan provides great features like resource planning, global demand management, alignment scorecards and unlimited proofs. Besides, it allows you to add all the supported apps, whether paid or free.
Enterprise is the top range plan that offers you all the features of the other plans and many more. The additional features include interactive media review and approval workflows. With this plan, you have unlimited access to all the apps supported by Workfront. This plan can support an entire organization.
Pros 
Workfront is one of the few apps that allow you to add other apps for simplicity. Adding several other apps helps make work easier. The apps are also easy to integrate into the platform. You do not have to go through complicated processes to add an app. 
Workfront comes at a fair price. Each plan offers you a great plan compared to the competition. The platform provides value for money as it provides you with a wide range of great features. You will not regret spending your money on this. 
Whether it is project management or resource management, the platform is efficient. You will be able to keep up with your projects at a glance. The platform also allows you to complete each task as planned according to priority, keeping you focused on your work.
The app allows several app integrations, which adds to the accuracy of the platform. Once users upload their information, the app efficiently ensures that all circumstances come to play when making schedules and establishing milestones for tasks. 
Workfront app allows you to do as many things as possible. Some users wind up not knowing what many features can do. Once you get the app, you will realize that you can do more than you thought was possible. The app will not only give you reliable reports on project management but also ensure that you have a clear understanding of the timing and financial aspects of the project. 
Workfront boasts of great customer service. Their support team can assist you to setup your account and get started quickly. They also provide relevant materials to help you work independently. That is important in ensuring that you make use of the platform optimally. 
When you get stuck, you can always reach out to support for help. You can contact them through phone, online chat, or email.
Your reports always come in detail, unlike other similar platforms. The platform will give you a rundown for every employee and their performance for each task. You can use the information to select which employees you would wish to assign to new projects according to their previous track record.
You can use the app on your Mobile Phone. The feature allows you to include remote members of your team. The app is also easy to use, and members of the team will make any changes and adjustments to the project.  
Cons
You will need the training to learn how to use the platform. The platform presents real challenges, especially to beginners. It may feel like a complex project to even master what each feature does. However, once you read a few documents and get some tutorials, you will navigate the site with fewer complications.
The platform has too many features, which may be confusing especially to new users. Some users will find the app too complicated. When an app has too many features, it may be too difficult for a learner to master how to use it. The users need to utilize all the elements so that they may all be useful. 
The Excel-like interface may be easy to clutter. The tool seemingly integrates too many things that also add to the clutter on the dashboard. Users want a simple dashboard that is easy to navigate. You will even notice that it is hard to follow conversations making it hard to keep up with the team. 
Conclusion
Workfront is a great tool for organizations in the project management project industry. While it has some shortcomings, the good outweighs the bad. This makes the software a great investment for enterprises. Excellent project management features make the platform efficient in finding what a user wants. 
Although the software offers great features, integrating some apps will make it work excellently depending on what you want to accomplish. The wide range of supported apps makes suggests that you can accomplish a lot using Workfront. You can get all the services you need to run a project all at one point.