TeamGantt is an easy to use project management software that not only offers a user-friendly interface but also streamlines projects to enhance efficiency. This online software offers users excellent project management features that allow teams to collaborate and make communication more effective and efficient through its document sharing feature.
Unlike other software, it doesn't have complicated features; rather its interface is friendly and simple to use. Thus, it can be used by either beginners or people who are more experienced in using Gantt chart software. If you are looking for a project management application that offers exceptional Gantt Charts, then go for TeamGantt. It is one of the best in that regard.
Getting Started
Getting started is simple and easy. All you need to do is to register an account with TeamGantt.com.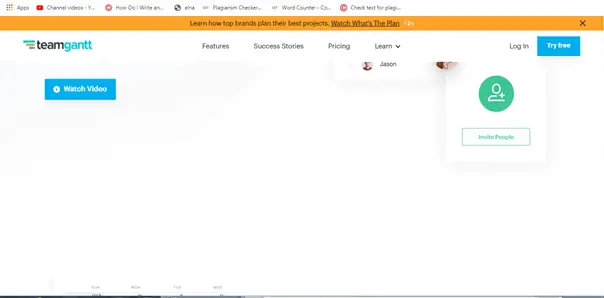 As a first time user, you will need to provide your name, email address, and create your password. Once you finish this simple and easy process, you can now log in and view your dashboard.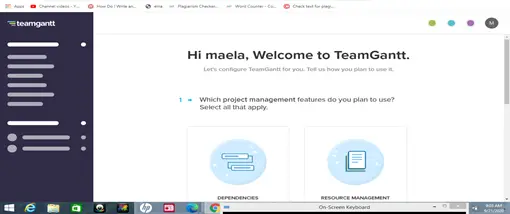 The first screen you encounter has menu buttons on dependencies, resource management, task management, and boards. You can click on these icons to configure your software according to how your project plans. Each icon has a link that allows you to click and watch a video on how each feature works. This is a perfect option, especially if you are a beginner. You can watch step by step instruction on how to use the features.
Features
TeamGantt has simplified and easy to use features that will allow you to efficiently streamline your project. Its features enhance collaboration between team members through shared resources and task management. Here are the key features of TeamGantt.
Management Features
These features will help you to manage your project efficiently as you save on project cost and time.
•             Standard Task-list
TeamGantt has a task list that displays ongoing tasks and those that are scheduled to be accomplished in the course of the project. The tasks typically have a start date and completion date and the person responsible.
•             Gantt Timeline Charts
Gnatt charts are the visual illustration of a task that helps you to easily see at a glance the various timelines of each task. Just by looking at the horizontal bars, you can quickly see the timelines of each task and the progress. The progress of the tasks is measured in percentages, and you can see how much work needs to be done within a specific time and make appropriate decisions. This is an excellent tracking tool as it enables you to see the progress of your team at a glance.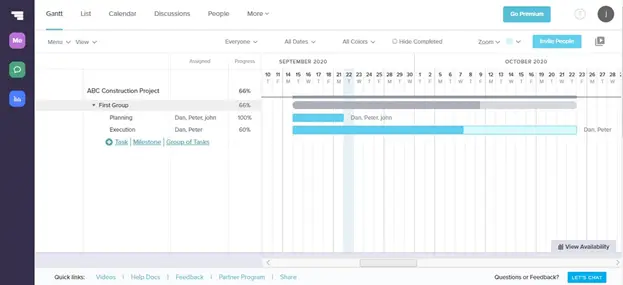 •             Shared Team-Calendar
This feature helps you to quickly view how tasks have been allocated over the entire project period. The shared calendar can be viewed by team members in the project, and they can organize and plan for their various tasks. Project managers are also able to allocate resources to tasks that have a higher priority. This feature is a perfect management and planning tool for the team members and project manager.
•             Timer
A time tracker is an excellent feature that allows you to easily track the progress of tasks. With this easy to use the feature, you can estimate how long a task will take a worker to accomplish and make an appropriate decision. You can also use it to track the timesheets of your users
•             To-Do List
The software has a to-do list for your tasks. You can arrange your tasks in order of priority for everyday work. As you complete one task, you can check it and see the progress of how far you have worked. It also helps you to stay organized and work in order of priority.
•             Boards
You can use boards such as Kanban boards that use cards as a great way to visualize your work. You can view your progress in the project and what you need to improve on to boost the productivity of your team for better results
Document Features
This feature in the TeamGantt software enhances collaboration and makes document sharing easier among users
•             Document Attachment 
Team communication is made easier with TeamGantt. The software allows users to attach and share documents like PDF files, project images, or even spreadsheet like excel sheets. This way, communication is easier, and action can be taken faster, which is a great way to save time.
•             Document Storage
Documents can be stored in the system safely. Project images, PDF or even word documents can be stored in this central location where they can easily be accessed by the people who need them. The documents can be easily viewed by the team members or even downloaded for further action.
Communication Features
•             Task Comments and Conversation inbox
An amazing feature of TeamGantt software is the ability of users to communicate and collaborate efficiently throughout the project. The task comment feature allows users to comment on the task their working on. Communication is key in any project, and offering additional information on a specific task can help the team to better understand your work. The additional chat inbox is a great way to keep up with conversations. It helps you to track conversations on a given task successfully.
User Interface Features
TeamGantt has a user-friendly interface that is well designed for ease of navigation. The project tasks are conveniently placed on the left, which makes it easier for the user to see and navigate. The Gantt charts are perfectly situated on the right to give you a clear view of the tasks, timelines, and the team member the task is allocated to. You can also see the progress of each task.
•             Menu
The menu is easy to use, and you can quickly move from viewing one task to viewing and analyzing the next one.
•             Team DashBoard
The team dashboard feature helps the project manager to view the team workload and see how much work the team has done and what is reaming. In the dashboard, you will also have a view of the whole Gantt chart.
Reporting Features
TeamGantt has simple but easy to use reports that will update you on the status of the project tasks.
•             Project Health Report
With this report, you can determine which projects are on course, which ones are past the due date, and which ones are behind. Based on this report, you will be able to take appropriate action.
•             Work Load Report
Workload reports will help you in the allocation of tasks to your team members. These reports will allow you to see how much work a team member has, and you will be able to track his or her progress. You will also be able to find out which team member has worked overload and make an appropriate decision.
•             Task Dependency Mapping
TeamGantt helps you to easily map task dependency. Using this feature helps you to know which task needs to be completed first before the next one begins. This way, you can adequately prepare for the next task. You are also able to know how much time is remaining before the next task begins.
TeamGantt Pricing
TeamGantt has a pricing structure that charges per user every month. There are three price options: free, standard, and advanced package. You chose your preferred package based on the functionality you need and the number of users. Here is an insight into each option.
•             Free Package
The free package allows for a maximum of three users and only one project. It also offers workload and filtering, and you can also map task dependency. The free package offers phone support for thirty days. However, it is limited compared to the other paid packages.
•             Standard Package
The standard package costs $19.90 every month, billed yearly. The package price increases with $7.9 for every user that is added to the system. The package has additional functions like unlimited projects and unlimited guest who can use the system; you can view project histories, you can also get custom project templates and Gantt chart embedding. It also has 30 days of phone support.
•             Advanced Package
The advanced package price is $24.45 and increases with $12.45 for any extra users that are added into the system. In addition to other features, it has a start-stop timer, you can also use manual time entry, it can detect time that is increasing past the budget allocation, and it has unlimited phone support.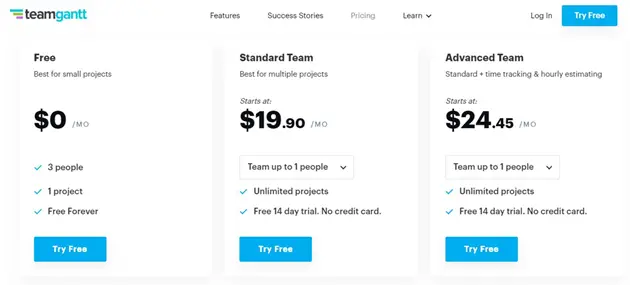 Pros
•            Simple and Easy to Learn and Use
TeamGantt is a simple software that is easy to learn and use, especially for beginners who have never used Gantt chart software before. Its features are simple to learn. It does not have complex features that will take a longer time to learn and difficult to use.
•            Well Labeled
The menus and icons are well labeled, and users can easily locate them. This helps the system user to quickly locate what they are looking for and move from one task to another. This helps to save time when you are working
•            User Friendly
The software is easy to navigate and to locate the icons and buttons. You can easily move from one task to another. You can also view project progress easily and make the needed adjustments
•            Easy to Track Task
You can easily track how tasks are using the software. The percentages of work done can inform you of how much time is needed for a task to be completed and how much has been completed.
•            Able to Map Task Dependencies
This software helps you to map task dependencies. You can see which task depends on another to complete before the next task can begin. This way, you are able to prepare your team for the next task and allocate the needed resourced like budget and workers.
•            Improves accountability
TeamGantt has a time tracking feature that helps you to track your team's timesheet. This is a perfect way to improve accountability on how time is spent by your team members. You can know how many hours a user spent on working on a project, and this information is accurate.
•            Helps in Allocating Work
The reporting feature of TeamGantt software helps you to see the various tasks and the team member who is responsible for the task. You are also able to know whom to allocate work by looking at the workload of each user and making a decision. The user with a higher workload is indicated using a red color.
•            Provides Improved Team Communication
The task comment section improves communication and collaboration among team members. This feature enables teams to effectively share the details of a task they are working on. It also has the chatbox, which helps in tracking the communication of a task.
•            Document sharing and Storage
Team members can share and store documents in the system. It improves the accessibility of the documents as they can easily be downloaded any time they are needed.
•            Plug and Play
TeamGantt software is more of plug and plays software. It does not require a lot of customization, as most of the features have been set up.  All you need to do is to enter your information and use it. It requires less configuration making it less complicated but more efficient.
Cons
•             Has no Budget Section
TeamGantt does not have a section of the project budget. Projects run on a budget, and this section can help the project manager to view the budget estimates of a task.
•             Costly
The system can be costly, especially if you want to use it on a bigger team. The cost increases as the number of users increase.
Conclusion
TeamGantt is simple and easy to learn and use software that offers users a solution to streamlining their projects. Its simplicity is a way of focusing more on project streamlining and collaboration and less on complicated system features. The time that is used in learning a complicated system is instead used in managing the project. The software enhances the management and planning of projects through shared features and improves communication and collaboration. It is software that can be used by beginners who have never used Gantt software before, or experts can also use it.