PM Prepcast is an online training program that helps project management aspirants to pass the PMP exam and get the much-needed certification. The course offers the 35 contact hours required before one can apply for the PMP certification exam. You need to have a diploma or degree and have project management experience. The exam is administered to project managers and agile practitioners to show their prowess in their careers. The PMP certification is a requirement for one to get hired in many firms around the globe. 
For most aspiring project managers, preparing for the PMP exam can be challenging. Luckily, OSP International, a project management institute, has been helping many project management aspirants to achieve their dreams by empowering them to pass the PMP exam. This review takes you through the PM Precast program including its features, benefits, and shortcomings. It has everything you should know before spending your money on it. 
About PM PrepCast
The PM Prepcast program aims to assist learners to get all the material and support they need to ace the test. The course equips them with the necessary knowledge and skills through various channels including videos, ebooks, and online coaching. Learners can download the lessons to their computers or smartphones. The course instructor guides students throughout the course and teaches them all they need to know to pass the PMP exam. 
The course is a product of OSP International. The founder, Cornelius Fichtner, is well-known for his experience in the project management industry. Together with his team, he has trained more than 56,000 project management professionals in over 56 countries. 
You need to sign up at https://www.project-management-prepcast.com to access the PM Prepcast course. Before signing up, you will be prompted to choose the option that suits your needs.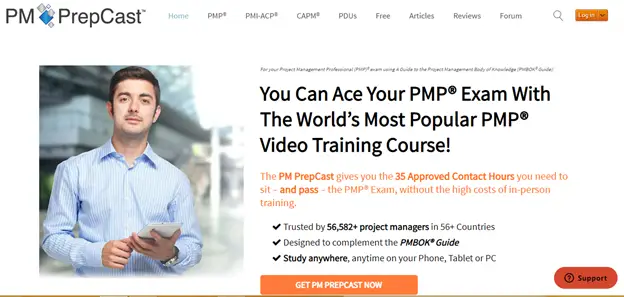 Once on the site, you can choose whether to read and watch the material online or download them. The instructional videos are clear and detailed to help you learn with ease.
Cornelius uses simple clear language to explain concepts which makes it very easy for any learner to understand. You can watch the in-depth video lessons and listen to audios as many times as you can. Non-native learners can still find the videos very engaging and informative. That makes PM Prepcast one of the best online PMP courses. 
You can quickly access content through the dashboard. Your dashboard will display your courses together with links to other study guides. It is worth noting that you can only access the content associated with your package. 
Course content
The course is divided into modules and each concept is covered in its own module. With years of experience in the field, Cornelius ensures that the course covers all the important areas tested by the PMP exam. 
You also get a PDF full of quizzes at the end of each module. If you want to learn fast, try the quiz after you complete each module. That makes it easier to gauge yourself on what concepts you have understood and which areas you need to improve. The last modules have extra parts like expert interviews, PMP exam content outline, lessons learned, Project management in agile, real life concepts like risk attitude among others. 

Expert interviews are useful when you want to learn more from professionals. They may not be helpful for examinations but will be of help in your career. The great thing about this program is that you can study anytime, anywhere using any device. In essence, PM PrepCast is a portable personal coach that uses real word examples and detailed explanations to teach you every concept.
You will have access to forums that offer you a place where you can engage in discussions, ask questions, and share knowledge. The founder sometimes addresses and answers tough questions. This is very helpful in providing the right perspective when it comes to addressing related questions. You should exercise caution while seeking answers from the forum as some answers from other learners may be misleading.
With the PMP course, you only need a few more materials to ace the PMP exam and earn your certificate. You can find extra research materials online that can also assist in preparing for the test. But the course is sufficient in itself such that it is unnecessary to get more materials from the internet.
Features
The PM PrepCast has minimal features as compared to many other PM providers out there. However, it is still one of the most preferred online courses in the project management industry. 
Here are the main features of the program.
More than 50 hours of audio and video training sessions
Online and offline access to learning materials
Content is available for download
Email course for each lesson learned
There are quizzes at the end of every module to test your understanding 
There is a 90-day money-back guarantee
It comes with a detailed student's workbook with different PMP concepts
The product offers project managers and agile practitioners with adequate support to grow their careers by offering training and coaching. Whether you decide to download the materials or watch them online, the content is the same. 
The package gives you 90-day access to 1,800 exam questions on 9 full-length exams. You can get the simulator at $139.
You get 105 sample questions, an email course, and an explanation of PMP formulas at $29.
For only $ 49, the PM studycoach package offers you video and audio lessons, PDF workbooks, 210 sample questions, and an Email course.
Pricing
The PM PrepCast offers three packages. 
The basic package goes for $229. With the package, you have more than 50 hours of webinars, an Email course, an online forum, a 35 contact hours certificate, and a PMBOK guide. 
It provides the training lessons one needs to successfully prepare for the PMP exam. The basic package excludes online exam simulation. To prepare adequately, one has to purchase the simulator separately.
This is the highest package and it goes for $299. You get access to 50 hours of webinars, an Online forum, 35 Contact Hours Certificate, an Email course, a PMBOK guide, 90-day simulated practice exams, detailed exam reviews, and explanations.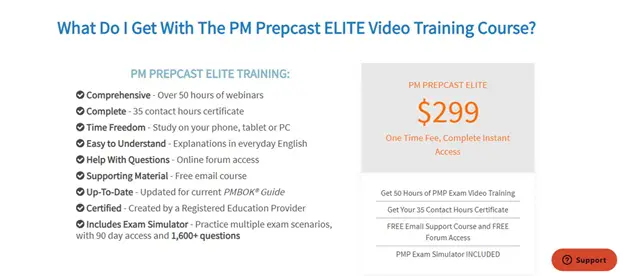 What makes this package different from the basic one is the exam simulator. With this option, you get both the training and the PM examination simulator. While its cost is $70 more than the basic package, you end up saving $69. Purchasing the training and simulator separately costs $368.
With this option, you get everything offered through the Basic and Elite packages. In addition, you have access to exam formulas so that you can test yourself. You also gain access to the PM guidebooks that informs you what to study to pass the PMP exam.
This package costs $369. You save $77 compared to if you were to purchase all that is offered separately. Here is a breakdown of prices with regard to separate purchase.
Pros 
Cornelius Fichtner delivers 14 coaching sessions based on his over two decades of experience in project management. Students have adopted his helpful tips and tricks over time to pass their exams. You can rewind your videos until you understand each concept. They are always ready to play whenever you need them. 
You have a chance for a one-on-one session with PM experts. Studying can be challenging and this service offers you a chance to connect with an expert. The expert helps you to study and guides you through challenging areas. You also get to answer questions and have them answered. A coach will offer support when you cannot comprehend a concept. 
Exam simulator and Practice exams
Practice improves the masterly of the subject. The PMP exam simulator helps you gauge yourself in preparedness for the actual exam. You get a four-hour exam that will challenge you in the way you answer questions as well as manage time and stress as you will during the real exam. With the Elite Package, you get 9 simulated exams with up to 1,800 questions. There are explanations and you can retake the tests as often as possible. 
The program offers the 35 hours needed to apply for the PMP exam. Many other PM courses do not offer the 35 hours contact certificate. It may cost you up to $150 to pay for a certificate. With the PM PrepCast course, you get a certificate at no extra cost.
At your disposal are study guides, ebooks, recorded videos, email courses, podcasts, coaching, webinars, exam simulators, online forums, Formula study guides, and PMBOK guide. 
The wide range of learning materials diversifies the mode of learning. You can always choose either to read or watch videos. Videos are easier to use as they have full explanations and they do not require a lot of effort to follow through. Combining all the materials ma give you the best results.
You can claim your money if you are unhappy with the PM PrepCast course. This is possible within a 90-day window period. However, the PM Exam simulator has a 15-day moneyback guarantee while the PM StudyCoach Guidebooks comes with a 30-day moneyback guarantee. If you surpass the said duration, the company has no obligation to compensate you. 
Students can download all the reading materials on their mobile phones. You can access the learning materials using any smartphone. The ability to access your learning material gives you a chance to study at any time and from any part of the world.
Cons
You may find it difficult to study with the blend of materials offered. For example, many people will watch videos more than they would like to take a quiz. The course, therefore, may not be productive if the user does not know how to utilize the materials to get the desired results, especially when studying remotely.
No tracking of learning progress
While studying through the course, there is no tracking of the learning progress. This makes it difficult for students to assess and readjust their study plans. The absence of tracking leaves learners unaware of how much they have achieved.
Expensive online simulator
While the price of the program is fair, purchasing the exam simulator is quite expensive. Although the simulator offers modern features with excellent support, paying $139 for it is costly.
Some video lessons are quite long, which makes comprehension difficult. Not many students can follow through long videos and understand all the concepts. 
Conclusion
The platform has helped thousands of candidates to successfully take the PMP exam. Its cost is fair compared to the importance of securing the PM certificate that is vital in becoming successful in the project management industry. Training and one-on-one sessions with experts are available to assist students whenever they are stuck or need help. You don't need to consult other material. The lessons offered through the PM PrepCast program are sufficient to help you pass the PM exam.
After going through the program, you not only acquire knowledge to help you pass the PM test but also gain great insights on how to become successful in your project management career. As you study, experts will ensure you have known everything needed to make you pass the PM exam.
The PM PrepCast is an all-round and easy to learn course that can greatly benefit PM aspirants. The course delivery is excellent. There will be very little time spent in trying to learn how to use complex technology that you may not have. If you love reading print materials, the course provides you the opportunity to carry your notes in print media just like in actual school. Remember that you can always exploit the 90-day money-back guarantee option if this does not pan out as you expected. 
Overall, the success rate of the PM PrepCast course speaks for itself. Its good record suggests that most students who paid for it did not regret or lose their money. Thus, spending your money on the course is worthwhile.