As technology develops, the appearance of memory cards has greatly facilitated our lives. We can store tons of photos, documents, music, and more in these tiny memory cards. There are quite a few memory card manufacturers in the world. Among them, SanDisk is one of the most famous and prestigious manufacturers.
However, no matter how precisely we store the files in SanDisk memory/SD cards, they can be erased by unintentional deletion, virus infections, etc. Don't worry, and give up rescuing your files. Here, the post will elaborate on the best 5 free SanDisk recovery software for you to settle all the hassles.
Overview about SanDisk
What Is SanDisk?
It is an American multinational company that designs and sells flash memory products. And its series of memory products contains SD cards, CF (Compact Flash) cards, xD-Picture (eXtreme Digital-Picture) cards, etc. Many photography lovers exert SanDisk cards to store photos.
Is SanDisk Recovery Possible?
Luckily, the answer is yes in most cases. You can try the following best 5 SanDisk restoration software to retrieve the lost/deleted/formatted data from SanDisk cards. Of course, there are some situations we cannot recover the data from SanDisk cards. 
5 Best Free SanDisk Recovery Software
#1 WorkinTool Data Recovery (Windows)
The best option for Windows novices/pros without a spending budget
Platforms: All Windows systems      Price: 100% free
Do you struggle with recovering photos from SanDisk SD cards/ USB drives? Relax. WorkinTool Data Recovery always stays with you and waits to provide technical recovery support at all times. It is a 100% FREE and comprehensive SanDisk restoration tool for Windows users. It truly realizes the free price to retrieve all your lost/formatted/deleted photo files from SanDisk cards. Other than photos, it can also restore music, emails, documents, videos, and more with three clicks.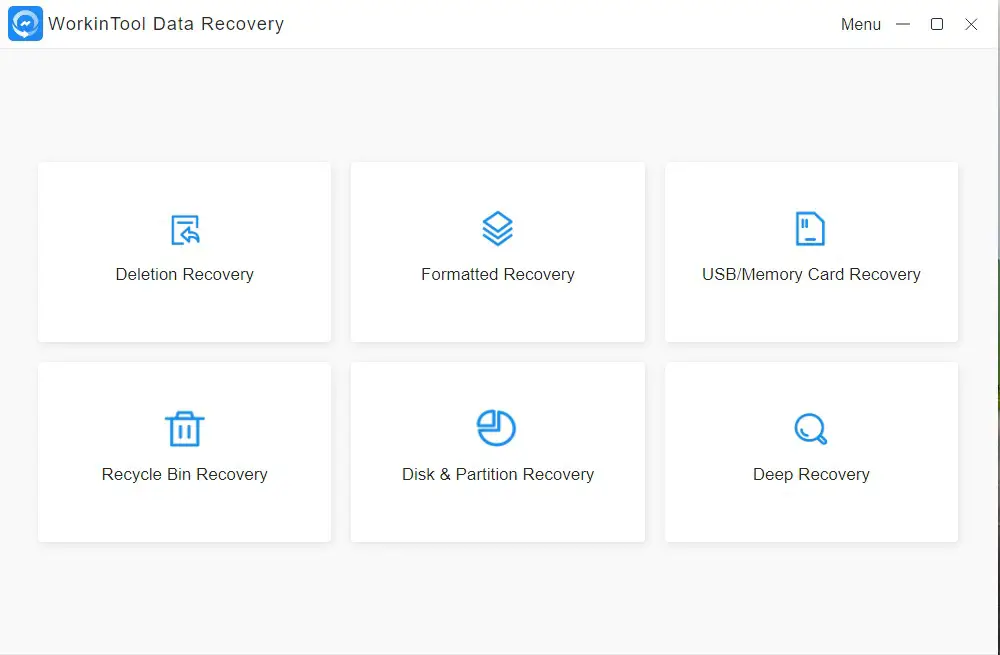 Pros:
+ Utterly Free without Ads: There is no in-software purchase. And no ads pop up to disturb you during recovery.
+ Easy to Use: It is designed with a user-friendly interface that is clear for you to know the location of different features and how to recover data in several clicks.
+ Various Storage Devices Supported: It can retrieve your missing files from any major storage devices such as MP3/4 players, HDDs, memory cards, disk partitions, etc.
+ High Success Rate: Due to a more advanced algorithm, it can find more buried files, and the recovery success rate is up to 99.9%.  
Cons:
– Platforms: Currently, it only supports Windows systems.
*Just click WorkinTool to learn more details and other helpful office products.
#2 Puran File Recovery (Windows)
Popular among Windows users who only need primary recovery functions for free
Platforms: Windows XP/2003/Vista/2008/7/8/10      Price: 100% free 
If you want to recover files from SanDisk cards on Windows, Puran File Recovery is an excellent option for you. It is an entirely free and reliable SanDisk recovery tool. And restoring deleted/lost files from SanDisk SD cards is a piece of cake. Besides SanDisk SD cards, users can return the missing files to their original places from various storage devices like hard disks, pen drives, SSDs, CDs, DVDs, etc. Moreover, its interface is straightforward, without viruses and ads. It's not difficult for us to retrieve everything we want. 
Pros:
+ 100% Free: All its powerful function is free of charge with no limits and ads.
+ Various Data Loss Scenarios Supported: It can do well in different data loss situations such as accidental deletion, formatting, lost partitions, etc.
+ Three Scan Modes: It provides three practicable scan modes (quick/deep/full scan) with different recovery features, and you can select them according to your demands.
+ Target the Files Fast: You can quickly target your desired file type by clicking the Search button. It subdivides the file types for you to select the type you want.
Cons:
– Outdated Interface: Despite its simplicity, it is a bit old-fashioned because it was updated several years ago.
– Few File Types Supported: It only supports over 50 file formats.   
#3 Cisdem Data Recovery (Mac)
A good choice for Mac users with a little spending plan
Platforms: macOS 10.9 or later Price: Free or paid version $69.95~$149.95
Suppose you are accustomed to working on a Mac computer and lost your files from SanDisk cards. In this case, you can use Cisdem Data Recovery to handle all your SanDisk-recovery problems because it is a free, all-in-one data recovery software compatible with macOS systems. With it at hand, you can effortlessly recover 200+ files, whether from SanDisk SD cards/USB drives or other brands of storage products. Moreover, it is designed with a modern interface that is delightful for your eyes and easy for you to operate.
Pros:
+ Various File Systems Supported: It can recover files from multiple file systems like APFS, HFS+, FAT16, FAT32, exFAT, and NTFS, etc.
+ Powerful Recovery Capabilities: It can always offer professional recovery solutions whether after deletion, formatting, power shutdown, or virus attacks. 
+ Recover to Cloud: In order to save your storage space or copy files, it is built with a feature for you to directly recover the files to Dropbox, Google Drive, and more Cloud software.
+ Accessible to Use: You only need three steps to bring all your lost files from SanDisk cards to your hands.
Cons:
– Partly Free: If you use the free version, you only enjoy the preview and scan features, not including recovering. 
#4 Disk Drill (Windows/Mac)
The excellent choice for Windows/Mac novices with adequate budget
Platforms: Win 11/10/8/7/XP/Vista & mac OS X    Price: Free or pro version $89~$598
If you desire to retrieve all your deleted/lost files from SanDisk cards on Windows or Mac, all you need is Disk Drill, a free and versatile software. You can quickly recover SanDisk files from corrupt memory cards, formatted USB drives, accidentally deleted files, and more data loss situations. Moreover, it supports 400+ popular file types such as photos, videos, audio, documents, etc. 
Pros:
+ Easy to Operate: With a straightforward interface, even a novice can recover desired files like a pro.
+ Various Storage Devices Supported: It can restore deleted files from multiple storage devices like SanDisk SD/CF cards, internal/external hard disks, SSDs, flash drives, etc.
+ Two for One: If you upgrade to a premium member for Windows, you can automatically obtain the Mac premium plan for free.
+ Preview Feature: You can preview and target lost files before recovering them.
Cons:
– Slow Speed: The scan speed doesn't exceed 50 MB/sec, which may be time-consuming.
– Highly Paid Plan: You can only recover up to 500 MB for free. And if you want to enjoy all its functions, this is an expensive deal compared to other recovery products. 
#5 PhotoRec (Windows/Mac/Linux)
The best choice for pros who need SanDisk recovery software with robust compatibility
Platform: Windows 10/8.1/8/7/Vista/XP, Linux, Mac OS X Price: Utterly Free
Are you troubled restoring the lost files from SanDisk SD cards or USB drives? Luckily, PhotoRec is your 100% free and all-in-one solution to SanDisk retrieval. It can restore over 480 file formats from your SanDisk cards as long as they connect to your Mac/Linux/Windows computers. Moreover, it supports various other storage devices like hard disks, CD-ROMs, compact flashes, memory sticks, MMCs, etc.
Pros:
+ Utterly Free: All its recovery functions are free to users. However, you are welcome to make a donation to the designers.
+ Various File Systems Supported: It can recover data from multiple file systems such as FAT, NTFS, exFAT, ext2/ext3/ext4, etc. 
+ 100% Safe: It only performs the read-only scan, which will not overwrite the files and ensure the safety of every recovery step.
Cons:
– Difficult to Use: As you can see from the sample picture, it has a user-unfriendly interface, and the command lines are pretty challenging to understand. Novices might need a steep learning curve to recover data.
Comparisons among SanDisk Recovery Software
Summing up
It's a nightmare to delete or format files from SanDisk cards. You can't believe that happened and feel helpless to rescue your individual files. However, this post introduces the best 5 free SanDisk recovery software to facilitate you and significantly reduce your worries about recovery. Different readers have different choices. You can pick one to fit your preferences. No matter which you select, just take a free trial and recover files immediately.