Are you tired of staring at a blank screen trying to write your next blog post?
Do you struggle with getting the words out onto the page without losing your train of thought or running out of steam?
Do you wish there was an easier way to not only write your articles and blog posts but also make your content stand out from the rest?
Maybe you're even looking for some great writers who can create content for you.
Well, stop looking because we have great news for you.
Free tools can be great when it comes to enhancing your writing skills.
You be the judge of that. Here are ten free tools you can use to improve your writing skills.
Let's take a look at these ten awesome writing tools, shall we?
Ten Tools to Write Like a Pro
This tool is a great way to keep track of your thoughts and improve your writing skills.
You can write short paragraphs or long essays, and it will analyze them for you.
You'll receive suggestions for improvements, as well as suggestions for how to improve the structure of your next paragraph.
It's an easy way to improve your grammar and punctuation and your ability to write more clearly and concisely.
CopySmith is another great way to improve your writing skills.
It provides feedback on how you should structure each sentence in a given paragraph so that it flows smoothly from one sentence to another.
This tool also includes suggestions on improving your vocabulary and expanding upon arguments presented in previous paragraphs by adding new ideas related to those arguments within subsequent sentences using strong.
It is considered to be a great tool for creating sales pages, landing pages, blogs, and other write-ups.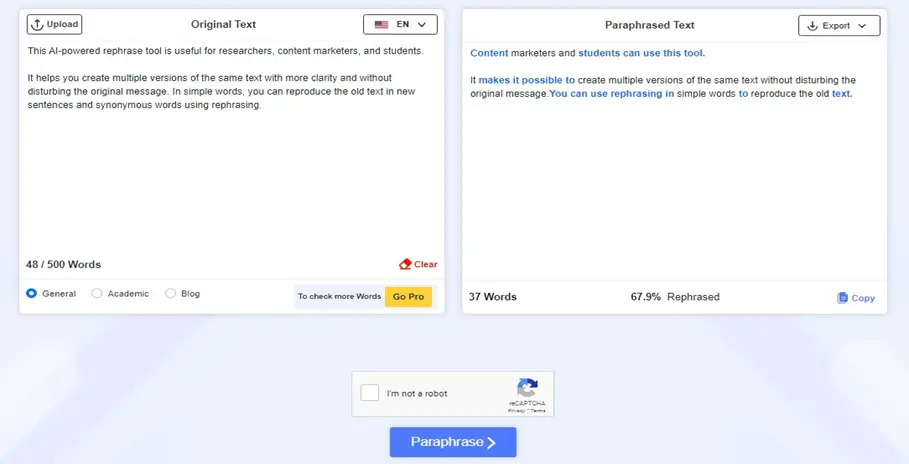 Do you struggle to understand different passages? If so, then rephraser is the right tool to help you understand even complex sentences clearly.
It works simply by taking a complicated piece of text from you and then converting it into simple content that you can comprehend without a second thought.
In fact, rephraser is a great tool for improving your writing skills.
It analyzes each sentence in a given piece of text to see whether or not it sounds natural or unnatural based on its structure, grammar usage, word choice, etc.
If the tool finds the write-up problematic, it restructures and rewords sentences to make them sound clear, even for a layman.
This way, you develop skills to write flawlessly without causing any trouble for your readership.
Grammarly is a free tool that scans your text and gives you an analysis of any errors it finds.
It also works to improve your writing by suggesting ways to make your sentences clearer and more concise.
It helps you check your writing for errors and check it against a database of common mistakes.
The service offers free and premium versions with additional features, such as plagiarism checking and auto-corrections.
Grammarly has become the widely used tool for writers to make their writing flawless.
It takes care of your write-up from all dimensions and helps you stay on top of everything you write.
Eventually, you learn to overcome mistakes and hone your skills like a pro writer.
Online notepad is a free online text editor that lets you write and edit text online, with the option to upload your file and make adjustments to it.
You can use it for free on any computer or device with an internet connection.
The tool has three writing modes: plain text, task list, and rich text editor.
You can use either of these to make the most of your writing endeavors.
If you conduct online research regarding the topic on hand, the notepad tool can help you jot down ideas so that you never lose track of what needs to be done in what structure.
There are numerous formatting options that you can use to make your write-up look well-defined, no matter what you are writing about.
Rytr is an AI writing assistant that lets you write ten times faster.
The great thing about the tool is that it does not just let you write at a rapid pace but also helps you learn the smart ways to write like a pro.
By using Rytr for your write-ups, you learn to write down your thoughts as they come to mind, whether they're related to work or personal matters. It's also useful for brainstorming and planning your writing projects.
This particular AI writing assistant is no less than a great blessing for people who wish to become professional writers without making any mistakes.
You can expedite the process of becoming a seasoned writer with the help of Rytr, as it has everything you need to become a polished writer.
If you really wish to take your writing to the next level without spending time and money on courses and other tools, then Jasper must be the right way to go.
It is one of the most powerful AI-powered writing tools available on the World Wide Web.
Preloaded with a bunch of writing templates, Jasper lets you create crisp and clear copies within minutes.
You just enter your requirements and get instant write-ups to satisfy your needs.
Jasper helps you with creating outlines, blog posts, assignments, essays, social media copy, newsletters, and much more. If you want to become a versatile writer, Jasper can be your go-to tool.
Pro Writing Aid helps you find flaws in your writing and give quick suggestions on how you can improve your write-ups.
It is one of the best online tools out there that you can rely on for improvement.
The tool has extensions and plugins for various programs so that you can use them from within the word-processing programs you already use.
This tool helps you write more clearly and efficiently by giving suggestions on improving your writing style. It's great for anyone who wants to get better at their craft.
The Pro Writing Aid allows you to easily create professional-looking articles in just minutes by using the right words and phrases that are appropriate for the type of document you are creating (e.g., a report).
This tool also has templates that can help you get started quickly with your writing projects.
Ginger is another great option for those who need something simple but effective when it comes to creating content for websites or other digital platforms.
You can use Ginger's style guide or its editor to help you create content that looks professional while also being easy enough for anyone on your team to edit as needed during the creation process.
This is a free tool that can help you improve the quality of your writing.
It uses a set of rules to evaluate how well your writing follows the rules of grammar, spelling, and more.
This particular editing tool helps you create cohesive sentences that are easy to read with just a few clicks of the mouse. Eventually, you learn how to write without making mistakes.
The Writer is another editing tool that makes it easy for you to write coherently by using a simple text editor format that makes it easier for readers to understand what you're trying to say without having to struggle through paragraphs full of run-on sentences or other errors in grammar or punctuation.
It also lets you check grammar and fix write-ups. Being one of the best AI writing assistants available on the internet, the Writer AI has impressive features to hone your writing skills.
Conclusion
Are you struggling to write a strong blog post? Do you have trouble coming up with an article topic?
Are your writing skills weak and need some major improvement? If you answered yes, then this article is for you.
The above-mentioned ten free tools can help boost your writing skills.
These tools can play a critical role in polishing your writing skills and help you write like an expert writer.