Voice recording has become a valuable technique for saving an audio transcript of something important that you can share with another person through digital means. Without putting in the effort of traversing to a specific individual, an audio recording can be helpful in leading a clear message to the recipient. There are different tools available to record voice to perfection. This article discusses the perfect offline and online tools that can help you record audio with high-quality results.
Part 1: Reasons Why One Needs to Record Voice
Why does one need to record voice on the computer? There are many different reasons that one can think of when seeking an answer to this solution. The following reasons will help you understand why you would consider recording audiowhile working on your daily tasks:
1. Setting up a Smartphone Ringtone or Alarm Alert
Recording voice for your smartphone usually involves making a custom ringtone that you like very much. While you cannot find anything related to that voice or tune throughout the internet, the only solution left is to record a smartphone ringtone.
You might be a hard sleeper who does not wake up on the generic alarm alerts. If you need something loud or different that is not discoverable on the internet; you will seek to record a custom alarm alert. It might be pretty helpful for you to wake up from your sleep in the morning.
2. Capturing Podcasts or Audiobooks
There are people who are not big fans of reading documentation and books on the internet. To save time, they look to listen to the associated audiobook and enjoy the essence of the read. If you publish something great to read for people across the internet, you can always attach an audiobook that will help a diversity of audience to read, listen, and acknowledge your written work.
While you are active on social media, there is always something to talk about. With different hot topics taking traction, you can record audio podcasts with other people and have them published online.
3. Audio for Lip-Syncing or Photo Slideshows
Do you have a recorded video where you need audio for lip-syncing with the video frames? You might need to record voice as a playback for the photo slideshow that has been created. In other cases, you can also record background music for such videos, which can be quickly done with a voice recorder.
4. Recording Audio for Making Notes on Lectures
Being a student, there is a lot to manage throughout a semester. While you study through all notes on time, you might lose track of the knowledge you are gaining. Instead of going through the whole details again, you can easily move to record the lectures as audio notes. You can always consider going through the recordings to have a quick overview of the lectures you have read.
It is pretty helpful when revising the lectures for your exams, etc. Furthermore, it is a quick and effective technique for keeping notes in this fast era.
Part 2: Wondershare UniConverter – The Effective Voice Recorder
You might have come to know about Wondershare UniConverter as a video management tool. This all-in-one video toolbox provides a vast set of video enhancement features. UniConverter is a coherent video toolbox that is capable of performing a variety of changes in a video. With the option of converting videos to other formats, you can compress them with customized parameters and the assurance of lossless compression.
Furthermore, this free video converter tool is also known for featuring a system of editing videos and audio within the platform. You can also perform different functions that are influenced by artificial intelligence. The recording feature available in UniConverter is exceptionally simple and result oriented. While you can record anything on your computer, it provides various options when a user seeks to use its recording tool.
Wondershare UniConverter offers a dedicated audio recording facility that is quite simple to use. Another great highlight of this feature is the option of putting the recording into other tools immediately after it is recorded. This connectivity is quite exceptional and recommended compared to other competitors in the market.
Part 3: Recording Voice with the Offline Solution – Wondershare UniConverter
Do you seek to record voice with this free video converter and management tool? Wondershare UniConverter provides a simple and effective facility for recording voices, as stated before. This guide will offer an in-depth overview of this function that will help you in recording voices with ease:
Step 1: Start UniConverter and Proceed to Audio Recorder
Download and install UniConverter's latest version on your computer. Proceed to launch it and lead into the "Screen Recorder" tool from the available option on the homepage. Next, select "Audio Recorder" from the options available to launch the recorder on the new screen.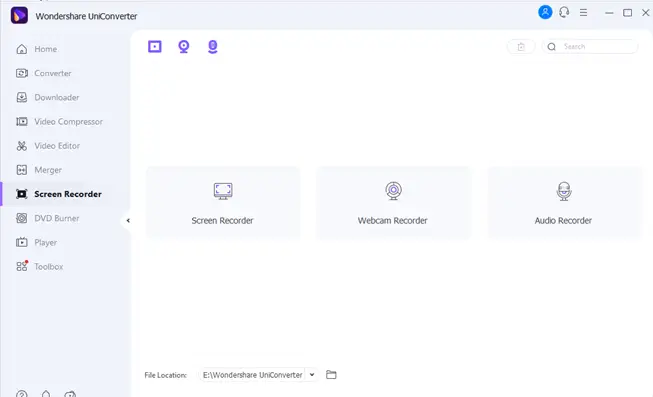 Step 2: Specify Custom Settings for Audio Recorder
You must specify the custom settings for the audio recorder before initiating the process. Set the "Speaker" and the "Microphone" with the options available and define the file format in which you want to record the audio. Once you have set all the parameters for the audio recorder, click on the "REC" button to start the process.
Step 3: End Audio Recording
To stop the audio recording, you need to click on the "Stop" button present on the screen. The audio recording will save within the file location that has been specified on the platform.
Step 4: Perform Other Functions on Audio Recording
While the recording is present on the interface, you can navigate to the "Add to Another List" button and select any respective option that you want to perform. You can convert, edit, compress, or merge the audio that has been recorded using UniConverter.
Part 4: Media.io – The Online Voice Recorder Solution for Professionals
If you lead into an online solution to record voice with professional parameters, Online UniConverter is a great option to get into the system. This online voice recorder features various features that manage videos, images, and audio. While you can record your voice within this online platform, there are several other functions that can also be performed on it.
Formerly known as Media.io, this online voice recorder features a comprehensive set of editing tools that can be used for videos, images, and audio. You can also consider converting, compressing, or performing other coherent functions with this online solution. Talking about its voice recording feature, Media.io promises high-quality MP3 recordings to its users. All this can be achieved within a browser without downloading any tool across the device.
Part 5: Recording Voice with the Online Solution – Media.io
Media.io provides an audio recording facility that can also be added as an extension within your Chrome browser. To record your voice with this online solution, you need to follow the guide present below:
Step 1: Launch the Online Audio Recorder Tool
Access the official Voice Recorder tool of Media.io from your browser. Proceed to click on "Record Your Voice Now" to redirect to the interface that will record voice.
Step 2: Record Voice or Music with Tool
With the online editor launched across the window, ensure that the "Audio Only" mode is selected among the Recording Modes. Next, define the "Recording Inputs" and click on the "Start recording" button to start recording voice. As you successfully record the audio, tap on the "Stop" button to conclude the process.
Step 3: Playback, Download, and Edit Audio
The recorded audio appears on the screen, which you can playback for confirmation. If you are unsatisfied with the results, you can click "Retake" to re-record the audio. To edit the recording, click the "Edit" button to open it within the editor. If satisfied, navigate to the "Download" button to export the audio on your computer.
Step 4: Perform Other Functions on the Audio Recording
You can perform multiple forms of editing across your audio recordings, which includes adding effects such as fading in or out. If you wish to convert the audio recording to another format, Media.io can also cater to this requirement.
Part 6: Verdict
You are aware of the different kinds of procedures that you can proceed with to record voice on your computer. While you employ the use of online or offline solutions for this purpose, they can be used under different circumstances. Wondershare UniConverter provides the opportunity to record voice without any internet connection.
Media.io, on the other hand, features the option of using any kind of device that has accessibility to the internet to record the audio, as it does not consider the nature of the device. If you seek to record voice on other devices, UniConverter restricts you as it is device-specific software. Media.io does not allow editing and managing large-sized audio files like UniConverter, which limits the functionality for users.