A workplace emergency is the time when preparedness counts most. In a true worst case scenario, smart preparation can make the difference between life and death. And in a lesser emergency, it can make difficult experiences a lot more manageable and mitigate losses.
Below, we'll discuss seven tips for planning your business's response to an emergency. These pointers can make a big difference in improving your preparations and making them more useful when disaster strikes. The end result could be downtime avoided, equipment protected, or even lives saved.
1.  Harden Sensitive Areas And Systems To Whatever Degree Is Reasonable.
Emergencies are easier to manage when critical systems are protected. Examine your most critical areas of risk, and then identify strategies that can address them. For example, a weatherproof NEMA enclosure can help key electrical components survive rain and snow, while flood prevention landscaping can reduce the effects of flooding from a hurricane.
This also applies to the many types of disasters that can affect IT systems—especially now that digital and physical infrastructure are more intertwined than ever. Make sure your servers are equipped with uninterruptible power supplies, and use tools like two-factor authentication and encrypted password managers to guard against data breaches.
2.      Know And Implement OSHA's Emergency Safety Requirements.
Read up on OSHA's emergency preparedness guidelines, which are designed to help protect workers and businesses and help them deal with emergencies. Note that certain industries such as construction and agriculture have specialized regulations above and beyond those applicable in general industry.
Many businesses are specifically required by OSHA to have Emergency Action Plans (EAPs). Even if your business isn't required to have an EAP, OSHA's framework provides an excellent start for developing a workable roadmap. These regulations cover topics like evacuations, sheltering in place, and other aspects that any emergency plan should address.
3.      Keep Emergency Supplies Throughout Your Facility.
Stash emergency supply kits in strategic locations to help ensure that workers always have what they need on hand in a crisis. First aid kits are a must in every workplace, as are fire extinguishers. Other necessary supplies will depend on your workplace's unique needs, such as heavy-duty spill containment trays for a chemical warehouse.
If there's a chance that employees could become stranded at your facility, such as at a remote warehouse in an area subject to snow, keep supplies such as extra food and fuel on hand as well. Remember that if you have a vehicle fleet, emergencies can also happen on the road, so ensure that every vehicle is equipped with the right supplies to handle scenarios like a breakdown or inclement weather.
4.      Create An Emergency Plan That Addresses Common Scenarios.
There's no one-size emergency plan for every scenario, so make sure to consider your business's specific needs when crafting yours. First, pay the closest attention to emergencies that are most likely in your area, such as a hurricane in Florida or a wildfire in California. However, don't neglect other emergencies like active shooter incidents that can happen anywhere.
The nature of your workplace will also present unique threats, such as chemical spills or runover/backover accidents. Every industry has standard procedures for emergency response, including the PHMSA Emergency Response Guidebook for chemical release incidents. Make these standards the foundation of your emergency plan and keep them in an easily available format to consult in times of need.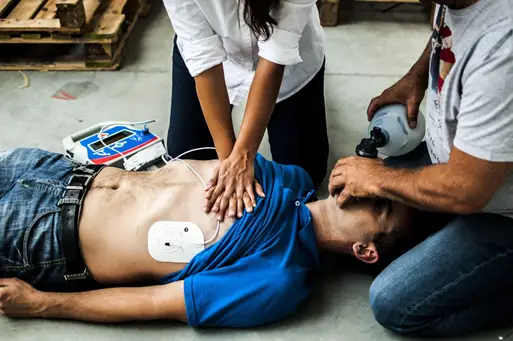 5.      Create Both Digital And Physical Backups Of Your Most Important Documents.
Don't wait until it's too late to remember that you need robust backups of your documents. If a disaster strikes, you might need copies of anything from outstanding invoices to tax records. These will help your business get back on its feet as quickly as possible and prevent potentially costly effects such as lost invoices.
Many businesses now store at least some of their documents in cloud storage, and many more have a full cloud backup of everything. However, in case you're temporarily unable to access the digital backup, it's smart to have paper copies of your most critical documents, such as insurance policies. Laminate these documents or place them in a waterproof container—a keyed electrical enclosure box can be a cost-effective option if a new safe isn't in the budget.
6.      Establish Emergency Communication Procedures With Management And Employees.
Communication and leadership are everything in an emergency, particularly one that requires coordinated fast responses such as evacuations. Establishing an emergency chain of command system for your workplace is a key strategy that many employers use to organize emergency response and make it clear who workers can look to for leadership.
Appoint leaders who will communicate messages from management to staff, and decide who will be responsible for checking on which aspects of the business. Common techniques include appointing "evacuation wardens" to manage coordinated movement out of a facility, as well as people whose job is to safely shut down machinery and contact local authorities.
7.      Make Sure Workers Are Taught The Appropriate Skills And Organize Regular Drills.
Practice makes perfect and, in the case of emergency response planning, it can also save lives. That's why every workplace needs to conduct emergency drills to ensure that employees and management are ready to respond if an emergency strikes. For example, fire drills, while they might seem simple, are critical for ensuring that everyone knows where the exits are.
Training workers in specific emergency response skills are also important. CPR can save a person's life in a medical emergency, and knowing how to use a fire extinguisher is a must for any employee. Carve out time in the schedule to give workers practice with these skills so that they'll have the confidence to execute them when the time comes.
Preparing for an emergency requires holistic and multi-dimensional thinking, and every business will have to address unique challenges in the process. The sooner you begin your planning, the better—the process of bringing everything together won't happen all at once, but an emergency very well might!