During the last few years, remote work has become a standardized work model for a large number of teams and businesses across the globe.
As this steady shift from physical office spaces to virtual workstations continues, the best online collaboration tools have become an integral part of daily work for teams of any size across various industries.
For widely dispersed teams, coordinating on work is not easy. Using emails, texting, phone calls, webinar presentations, and video conferencing for collaborating on tasks and projects is far too common, but online collaboration tools go above and beyond these methods.
Let's understand what online collaboration tools are and how they provide a seamless way to efficiently work together in spite of working from different geographical locations.
Stat Fact:
The global team collaboration software market size was valued at USD
21.69 billion in 2021
and is expected to grow at a compound annual growth rate (CAGR) of 9.5% from 2022 to 2030.
What Are Online Collaboration Tools?
Online collaboration tools are software programs, apps, or platforms specifically designed to enable businesses and their teams to streamline work processes and share a common platform for coordinating on different types of tasks and projects. There are many so many different uses, for example, it can be used as a collaboration tool in a design project.
Popular online collaboration tools are generally categorized as – project management tools, video conferencing tools, messaging apps, time tracking tools, etc.
Top-rated collaboration tools are easily accessible across various devices and allow managers and employees to assign and prioritize tasks, track time, communicate, customize workflows, track and update tasks' progress and much more.
How Businesses Benefit From Collaboration Tools?
Online collaboration tools physically bridge the gap between remote workers through a centralized platform where they can come together and coordinate on work.
Here's how businesses benefit from using online collaboration tools.
Easier for employees to work remotely
Suite of features in one place replaces the need to use different tools 
Keeps team connected and updated on all work-related activities
Streamlines work processes to speed up work production
Quick and effortless communication
Boosts employee productivity and satisfaction
Highly customizable and scalable
Top Online Collaboration Tools For Remote Teams
Teams have unique needs and face different challenges when it comes to working together. Fortunately, collaboration tools can help teams to be more organized and productive.
With so many collaboration tools out there, finding the right one for your team can be confusing.
Relax. We've made this seemingly overwhelming task simple for you. We've put together five of the best remote collaboration tools that allow users to easily manage various aspects of their work – file sharing, task management, real-time updates, chatting and more.
ProofHub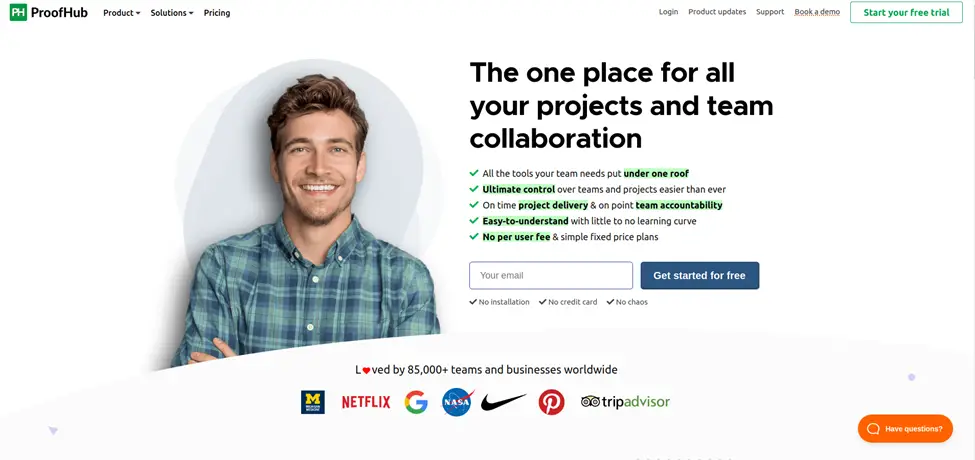 ProofHub is an easy-to-use, highly functional and customizable project management and team collaboration tool to enable remote teams to eliminate chaotic, unorganized, and vague work processes. You can easily access this tool on any device and manage your work and collaborate with others to make sure projects are progressing as planned. With ProofHub, team members can manage their to-do lists, communicate with others, create schedules, share files, and document the latest project progress.
Reasons To Buy:
Ease of usage, intuitive interface
Customized workflows
Flexible project views – Kanban, Gantt, and Table view
Online proofing, reviews, and approval
Time-tracking and timesheets
Digital file management
Communication features – instant chat, discussions, real-time updates
Pricing: Fixed pricing plans allow unlimited number of users. The Ultimate Control plan is fully-packed with basic and premium features, and is priced at $89 per month when billed annually.
Teamly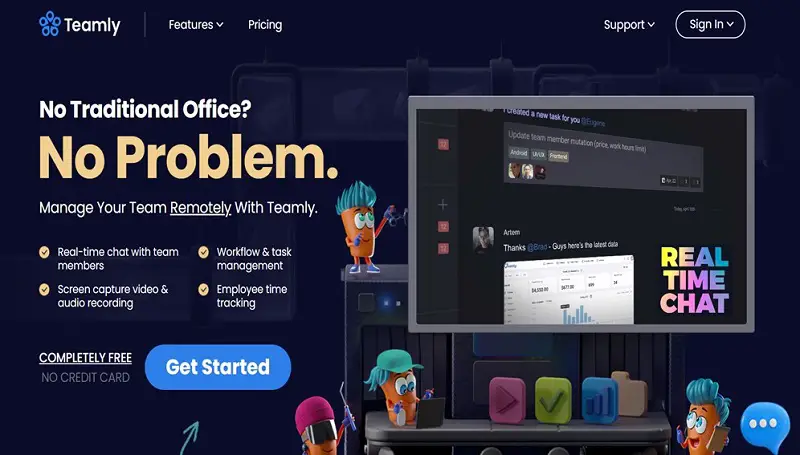 Teamly is a versatile project management tool that caters to the needs of remote teams. It offers a suite of features that streamline task management, time tracking, team communication, and payroll management. Teamly's user-friendly interface and powerful functionalities make it an excellent choice for teams of all sizes, from startups to large enterprises.
Reasons To Buy:
User-friendly interface with powerful functionalities
Comprehensive task management and time tracking features
Effective team communication tools
Payroll management feature that simplifies the calculation of payments
Cloud-based solution ensuring data safety and accessibility from anywhere
Pricing: Teamly offers a free plan for unlimited users, a Starter plan at $47/month for growing businesses, and a Business plan at $97/month for larger teams with more complex needs
Slack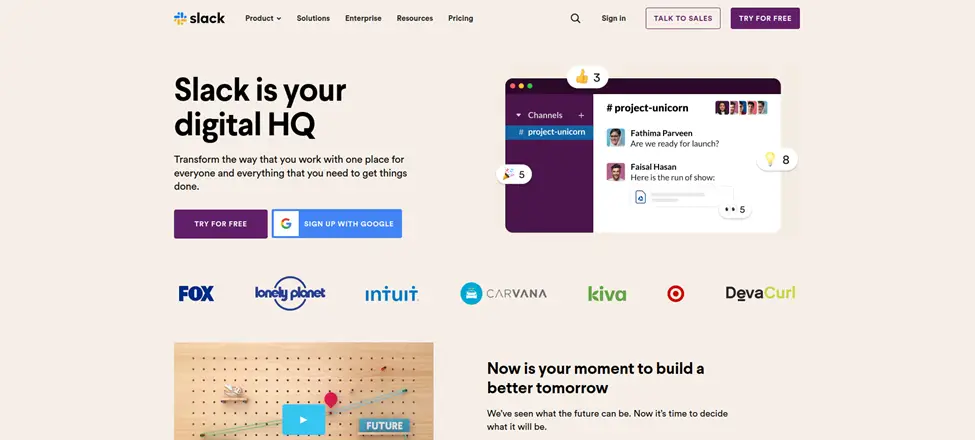 Slack is a popular tool that is well-known for its instant messaging and collaboration capabilities. Using Slack, users can send direct messages (DMs) and files to a single person or group. Users can categorize and organize conversations into different channels. Slack also offers voice and video calling, which means remote workers get all communication features on a single platform. You can also drag, drop, and share files with others within Slack, and it is compatible with apps like Google Drive, Dropbox, and Box.
Reasons To Buy:
Over 200 integrations with other apps and services
All communication features in one place
File and document sharing in channels
Searchable history
Highly customizable
User-friendly design
Pricing: The Paid plan starts from $7.25 per user/month when billed annually.
Podio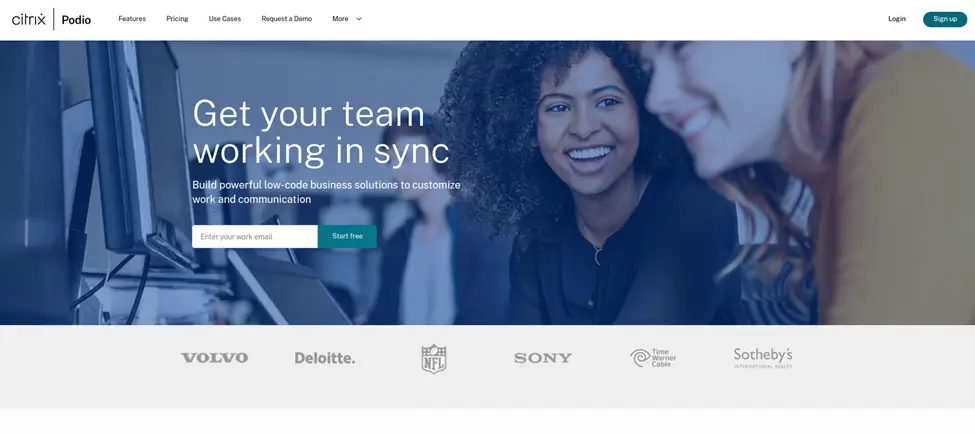 Podio is a mobile-friendly collaboration platform that allows remote workers to organize and delegate tasks while maintaining swift and timely communication among each other. Podio facilitates file sharing, project tracking, and feedback sessions. The tool has an easy-to-use interface and offers highly functional mobile apps for on-the-go accessibility. Its application-building function gives it an edge over the competition with a wide range of customization options based on whatever needs your team(s) might have.
Reasons To Buy:
Highly customizable
Generous list of features
Task management and workflows
 Granular admin capabilities
Data visualization
You can expect diverse and powerful API applications
Pricing: The Paid plan starts from $7.20 per user, per month when billed annually.
Zoom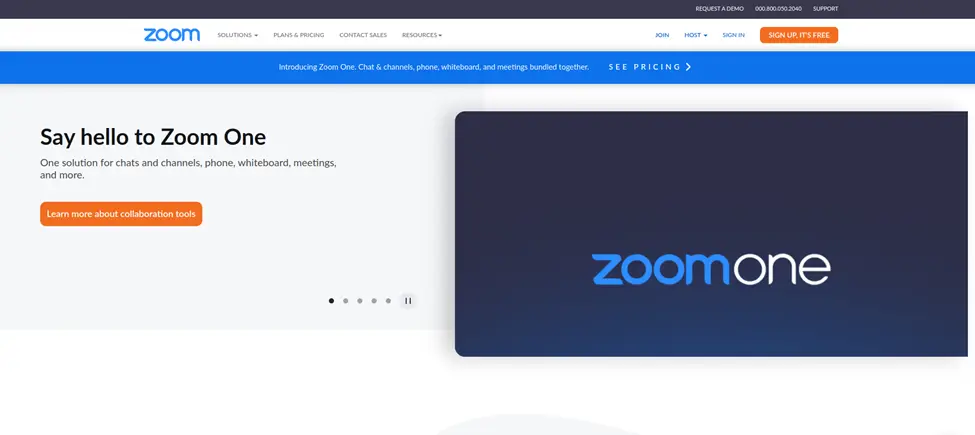 Zoom is counted among leading video conferencing and collaboration tools for remote teams across the globe. Zoom is used by remote teams for group meetings, virtual activities, and one-on-one meetings. Zoom is easy to use and you don't have to register on the app to participate in a virtual meet. A simple click on the meeting link shared by the host will take you directly to the virtual meeting room. Zoom is free for calls not exceeding 40 minutes and 100 participants. No wonder why Zoom is so popular because many small teams are  using it and not paying anything!
Reasons To Buy:
Interactive meeting features
HD audio and video calling
Meeting recording and transcription
Ability to host very large online conferences (up to 10,000 virtual attendees)
Stream any meeting or webinar on Facebook
Hold unlimited 40-minute long meetings for no charge
Scalable for small, medium, and large businesses
Pricing: The paid plan starts at $149.90 per year per user.
The Final Word
Remote work and online collaboration tools are here to stay. Your business needs to find the right tool for your remote workers so that your business processes continue without interruption. Online collaboration tools bring your entire team together on a common platform to speed up work, close down communication gaps, and enhance collaboration.
The tools mentioned above offer a wide range of collaboration features that will help your remote teams be more productive and efficient. Choose your pick and empower your virtual workforce to achieve more in less time. Good luck!