Even though we are a decade away before its full realization, the metaverse has started impacting different industries. Luckily, music, one of the hardest-hit sectors by the pandemic,  is one of them. We recently saw over 12 million Fortnite players tune in to watch Travis Scott in an Epic Games concert. Travis joins the long list of musicians already cashing in from the metaverse, a platform that means well for musicians or digital artists.
This article will look at the impact of the metaverse in the music industry and what its full realization means to artists globally. We will also explore a few platforms and musicians already making strides in the metaverse. Lastly, our discussion will focus on what the future holds for this industry in relation to the metaverse.
Music and the Metaverse
Before discovering the impacts of the metaverse on the music industry or what the future holds, we first need to ask ourselves whether and how music has evolved in anticipation of the metaverse. 
The truth is that music is one of the most diverse industries in the world. It can blend in with new technologies, and artists quickly adapt to changing circumstances. We've seen online gaming platforms venture into music, with some organizing virtual concerts.
Music has significantly evolved in light of changing technologies. It enjoys a symbiotic relationship with the metaverse, as seen from digital concerts that have created endless possibilities and opportunities for artists while allowing platform developers to cash in from in-game sales during such concerts.
The metaverse also guarantees that fans can socialize, move around and interact with artists, which is a considerable advantage for musicians. Owing to this relationship, we can soon expect artists to shift from physical environments, albeit partly to virtual spaces. Let's look at some virtual platforms promoting the music industry in the metaverse.
Examples of Music in the Metaverse
1. Platforms
i) Epic Games
Epic Games is one of the biggest video games and software development companies globally, with an equity valuation of close to 30 billion dollars. It has helped people explore the metaverse concept through its renowned game, Fortnite, a royal battle championship with millions of players worldwide.
The platform has been holding virtual events, which many believe are getting better with time. One of the most iconic events it ever hosted was the Travis Scott virtual concert which had over 12 million players and a horde of other streamers from platforms such as Twitch.
Like every concert on this platform, the pre-show session saw players killing each other to pass around time. A unique object then started floating towards the players on a circular screen, and on blowing up, the convert began. A unique Travis Scott avatar emerged, towering around the island, attracting several players running across the water to get a look at him. The visuals and tracks were synchronized, with Scott even turning into a cyborg at one point, giving players and attendees the illusion of Tron.
Even though the set was short, it was well planned with psychedelic effects. Players had special abilities and must have loved it. This is definitely one of the best concerts Epic Games has ever organized, which justifies why people keep saying that the platform is getting better. It seems to be learning from some of its past events and converts.
This game has also been supporting artists, even selling Travis Scott's emote before the Astroworld tragedy that claimed the life of several people. This was an 'Out West' emote with Scott's audio of his best songs, 'Out West'. The Astroworld tragedy was an unfortunate event that almost threatened the musician's career, with several people furious that he continued the event despite people dying from getting crushed.
It is also worth mentioning that Epic Games this platform also organized a Marshmello concert in the same year, recording an attendance of over 10 million people. This was also an iconic moment for Fortnite since it hadn't registered such crazy numbers from its live events before.
These two events should serve as early studies of music's transformation ability in the metaverse. Fortnite has been facing competition from several games and platforms. However, we hope that it will keep on with the excellent job.
ii) Roblox
Roblox is another most popular gaming platform owned by Roblox Corporation. Like Fornite, it has given several players a feel of the metaverse. It is also highly successful, owing to its constantly increasing user base.
This platform has been operating as an independent metaverse for some time, even partnering with different brands to create virtual worlds. One of the most iconic partnerships was with Nike to create NIKELAND, allowing players and users to connect, interact, perform challenges, and design. Therefore, it didn't come as a shocker when it shifted some of its focus into the music industry.
After partnering with Insomniac, a renowned electronic music event producer, Roblox hosted a dance music festival dubbed Electric Daisy Carnival, ETC. This was the first music festival in this platform's metaverse, bringing together other renowned players in the music industry, such as Wonder Works Studio, known for Overlook Bay. It gave fans five 'party Al night tents' with Zedd, Alison Wanderson, and Alan Walker performing in virtual stages.
This event showed the creativity and diversity of the music industry, especially in the light of a looming technological revolution. Also, by arranging for artists to dive into the metaverse (through what the platform terms 'server hopping' )and meeting their fans, Roblox proved the non-existence of limits when it comes to creativity and innovation.
Also, note that this platform hosted the award-winning duo, 21 Pilots, known for their famous hit, Heathens, giving them a platform to begin their first tour after two years. They performed several songs from their album, 'Scales and Icy', appearing as avatars. Another conic musician that has performed on Roblox is Tai Verdes, a Billboard Emerging artist.
We should expect this platform to scale even newer heights and, if possible, revolutionize the game completely, especially since it has guaranteed funding from Warner Music Group.
iii) Riot Games
Riot Games, known for their hit game League of Legends, is one of the biggest music promoters in the metaverse. It served its fans to a Pentakill performance, and if you are wondering who or what this is, hold on.
Riot Games put up a virtual group from their make-believe game, League of Legends, in 2014 and equipped it with in-game characters. Pentakill rose as a band made up of these characters, with a head singer called Karthus and a guitarist known as Mordekaiser. Therefore, its virtual event was a celebration of the coming back of the band and the release of their new album, Lost Chapter. This was an immersive, completely virtual event that fans deeply loved.
Riot also intends to allow fans to explore more of their stories through virtual concerts, music videos, and album lyrics, which will show just how intertwined the metaverse and music industry are.
It recently teamed up with Wave, one of the most outstanding virtual events companies known for The Weeknd's virtual TikTok concert, signaling that the music industry has an incredible future in the metaverse
iv) Wave
Wave is one of the best alternatives for musicians willing to explore a metaverse beyond renowned gaming platforms  Fortnite and Roblox. It started working with the misc industry by inviting DJs to play shows virtually for its fans as it aims to help artists widen their reach through technology and virtual spaces. One of the advantages of Wave is that its performances can be easily streamed from different platforms such as Facebook, Twitch, YouTube, and a range of other digital and gaming channels.
You can also watch your favorite artist perform virtually through their app, although only available for Steam and Oculus. Note that this platform partnered with Warner Music Group, one of the biggest proponents of music in the metaverse, and Roc Nation, owners of famous rapper and businessman Jay Z, to organize virtual concerts and amplify the reach of several artists.
Wave also raised millions of dollars from venture capital investors who believe in its visions. By 2020 June, it had hosted over 50 live events for several DJs, Popstars and general artists. Wave also organized Justin Bieber's live performance of his album Justice. He wore a motion capture suit, allowing him to interact with the audience in what most fans termed as mind-blowing. Other iconic performances include virtual events by the Weeknd.
W can therefore say that music is gradually cementing its place and position in the metaverse.
v) Decentraland
Decentraland is one of the most popular gaming and metaverse platforms. Its love and respect for music haven't gone unnoticed. It supports live music, conferences, and a range of community activities.
It hosted its first music festival dubbed 'The Moon' in mid-2021 as part of its Art Week. Organized by BEAR NFT, fans got to see several artists such as Dr. Fresch, Win, Woo, and Autograph, opening the stage for many more festivals.
Roughly three months later, thus Decentraland organized a 4-days Metaverse Festival, graced by several stars from all over the world. The event gave over 80 artists a chance to show their craft, including DJ and media personality Paris Hilton. Deadmau5 and The Wombats were also in attendance, performing as avatars, thus increasing the thrill.
One of the reasons why Decentraland is popular is because it helps artists select the right NFTs and additionally offers marketing, production, and distribution assistance. It has been lauded for helping artists enter the metaverse for the first time.
2. Artists
Several artists have managed to perform in the metaverse and interact with fans, helping the platforms rake in millions from merchandise sales. Is the metaverse the future of concert hosting? Well, we will find out shortly.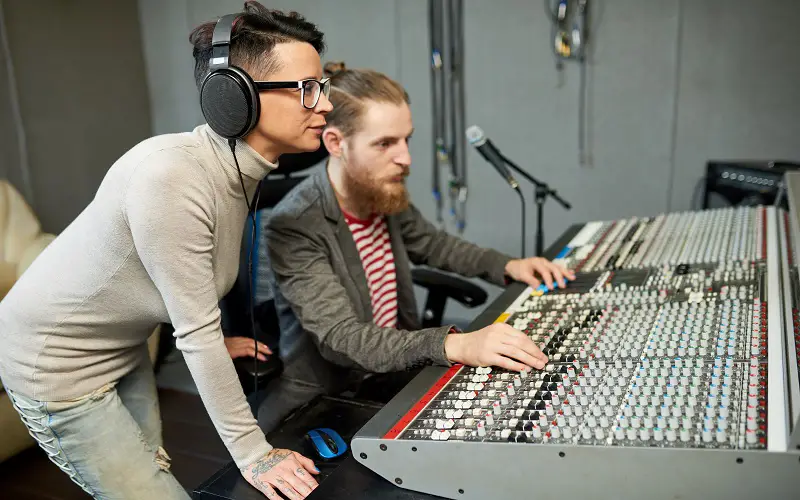 i) Ariana Grande
You definitely know Ariana Grande for her songs, 'thank you, next' and 'Stuck With You', which featured in the Us Hot 100 Singles chat. She is one of the artists that graced the metaverse with her presence made possible by the popular game and metaverse proponent, Fortnite, owned by Epic Games.
The show was iconic, with psychedelic effects that treated players to one of the best virtual shows. Ariana emerged from a crack on the ground, smashing fans with a decorated hammer. She resembled a Fortnite character adding to the thrill.
You can buy the skin she wore during the concert and play Ariana in-game. Expect glowing white eyes and a shimmering glass-made dress. Most people believe that her performance persuaded more musicians to join the metaverse bandwagon.
ii) Post Malone
Post Malone joins the long list of artists who have had a chance to perform in the metaverse. Best known for his songs 'Better Now' and 'Congratulations', he partnered with Pokemon to give viewers an incredible metaverse performance.
Scheduled for the first half of 2021, the event celebrated 25 years of Pokemon. It was part of the P25 music program, giving fans a chance to tune in from Pokemon's 25th-anniversary website and its official channel. Revelers were thrilled by the artist's performance of 'Only Wanna Be With You', a cover of Hootie and the Blowfish 1995 hit.
It is clear that companies and major brands support incorporating music in the metaverse and are willing to invest in it.
iii) Dua Lipa
Dua Lipa also got a chance to wow fans in Fortnite after a successful Ariana Grande performance. Known for hits such as Don't start now and Break My Heart, this singer has scaled heights to become one of the most loved female artists worldwide.
We hope to see more of her virtual concerts, complete with avatars and myriads of fans.
What are the Impacts of the Metaverse on the Music Industry?
The music industry continues to grow even with the advent of the metaverse. However, its effects on the music industry have been seen since artists such as Travis Scott can now easily hold virtual events and reach over 12 million fans. Here are additional impacts of the metaverse on the music industry:
1. Increased Fan Engagement
Physical concerts have limits, meaning that artists can't interact with or reach all their fans even if they desire. However, this is possible in a virtual space such as the metaverse. With several investors believing that this is the future of the internet, we are set to see events hosting even 50 million people. Platforms such as Fortnite and Minecraft have already set the pace, recording over 10 million people in attendance.
The metaverse also allows fans to engage with artists, such as the recent Justin Bieber concert, where his special attire allowed him to interact with fans.
2. Increased Revenue
This is one of the biggest impacts of the metaverse on the music industry. It creates an alternative income stream for musicians, one of the hardest-hit groups by the pandemic. Physical concerts ceased to exist, with some countries banning any form of gathering as the number of deaths occasioned by the COVID-19 surged.
With virtual events, revelers dont have to engage physically, posing no serious health concerns. Physical venues are also limited in capacity, locking out several fans. However, with digital concerts, tickets can be sold to millions of worldwide fans, creating more revenue for the artists.
3. Increased Revenue
As music becomes more popular in the metaverse, several investors are entering the music industry. We have seen platforms strike deals with music groups such as Rock Nation, owned by Jay Z, to bring as many musicians as possible into the metaverse. Artists are getting paid well, and the entire music industry is growing.
What Does the Future Hold for the Music Industry?
One thing is for sure- the impact of the metaverse on different industries is already being felt. Judging from what music fans have observed in the last few years from th virtual projects and concerts, the music industry is set to gain even more once it is fully conceived.
Most artists haven't managed to organize world tours due to the Covid 19 pandemic, which has been around for some time. Such occurrences interrupt income flow, albeit shortly, and can be detrimental to artists. However, in the future, we should expect musicians to conduct virtual world tours, ensuring non-interruption of one of their biggest sources of revenue. 
The metaverse will also guarantee increased and constant investment in the music industry by brands, companies, and crypto investors. We have already seen labels partnering with platforms to support the penetration and incorporation of the music industry into the metaverse.
Lastly, this virtual world will nurture talents and give many amazing but less-heard artists a global platform, promoting collaborations and the music industry's growth.
Conclusion
The chemistry between the metaverse and the music industry is one of a kind. All the good tidings that this innovation carries will revolutionize the art and music industry. Let's wait and se what the future holds. Also, remember to look out for our future articles as we intend to guide you on how you can also benefit from the metaverse.