You probably have saved most of files in your spacious Mac storage or an HDD drive for easy access. However, all or partial files can easily get deleted due to issues like software defects or system crashes, virus attack, etc. Has that ever happened to you?
If so, or if you are concerned about it potentially happening to your Mac, using a reliable data recovery software is helpful. With this, you can retrieve lost data without problems from different storage devices, including crashed computers.
Let's discuss more on that in this post.
Why is Recoverit the Best Choice for Data Recover on Mac Devices?
For full-scale and effective data retrieval, Recoverit is easily one of the best tools available. The 35 Patents technology in this software make the data recovering process smooth and take up very less RAM power. Therefore, it is much less cumbersome to handle on Mac devices of different OS versions.
Not to mention, Recoverit Mac Data Recovery comes with a rich library of data recovery functions for over 2000 types of storage devices and files. Mac users can also attach another external storage device and run this software to recover lost files. The deep scanning functionality of the software is strong and can retrieve lost files and deleted media over a long period ago.

The process of using the software for data recovery is quick and efficient as well, with simple single-click features available. You can easily scan the device and choose the specific files or folders to recover from the deep recesses of your system. Learn about the steps of using the software and the features available here.
How to Recover Lost Data on Mac Using Recoverit Mac Data Recovery?
Here are the two processes you can use to recover your files from macOS devices using Recoverit Mac data recovery.
Case 1: Recover data from Bootable M1/T2 Mac Hard Drive/Trash/HDD
Step 1: Download Recoverit Mac Data Recovery on your Mac device. Then, launch it after completing the installation steps.
Step 2: Choose the location you want to scan for deleted data, like Mac Hard Drive, HDD, Trash, etc. Press the Start button.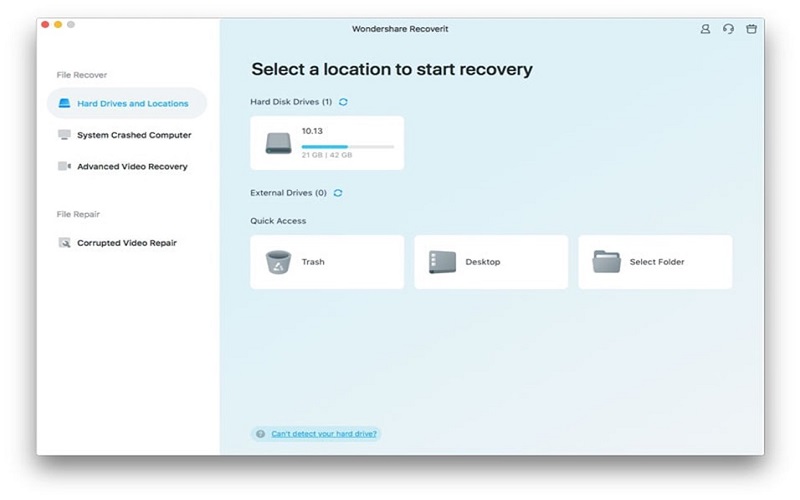 Step 3: The software will take some time to scan for lost and deleted files.
Step 4: Preview the files and press the Recover button. Or, click on a single file to preview it and then press the button.
Case 2: Recover M1/T2 Mac data that won't boot
The newer macOS devices may notice issues booting the internal T2 or M1 chip. In that case, you can use the Thunderbolt 3 (USB-C) or Thunderbolt 3 USB cable as a bootable media for crashed computer data recovery process.
The steps for this are similar to the original process, but first, you need select System Crashed Computer to get started.
Then connect your bootable USB media to the crashed computer and set up the booting process.
Then, restart the device and use the USB file on the new device for recovery.
Notable Features to Look Out For
Mac users can expect a lot of valuable features on this software for Mac data recovery. To decide if you will use this software for your data restoration needs permanently, know its functions first.
Supports over 2000 storage devices
Recoverit supports both Mac and Windows OS types. Besides that, you can also use it to acquire your lost or removed media files from other storage devices. Some the examples of that include hard drives, HDDs, SSDs, USB drives, SD cards, and more.
Works with recovering 1000+ file types
With this software, you can easily recover a wide range of data types from your storage device of choice. These include media files like videos, images, and songs, all in varying format options. Plus, you can recover other documents, notes, and more.
Advanced Video Recovery
You can use Recoverit to restore deleted video files without any defect to the quality of the video. This means that you can easily restore bid video files in FHD or 8K resolution with zero damage. Moreover, it is possible to recover multiple files simultaneously with this software.
Crashed System Recovery
Recoverit allows users the ability to recover files from crashed systems. For this, users can create bootable USB media that will retrieve the lost files, and the process for it is relatively simple with this software.
Corrupt video repair
During the data recovery process, users can use this software to repair the condition before recovery if the media file, like a video, is damaged. However, this feature is available for Premium plan users mainly.
Preview Files for suitable recovery
You can run the scanning process easily with a few clicks when using this software for Mac data recovery. The procedure is very fast, and you can pause or stop the process at any time if needed. You can preview the files individually to restore the right file to your system.
High-quality processing power
The processing power of the software is smooth and high-range when you are trying to recover files from the system and storage devices. Instead of taking up a lot of space or RAM, the software speedily scans and processes the recovery mechanism with a limited performance rate drop. It is compatible with Apple T2/M1 Security Chip in macOS devices, further assuring strong performance support.  
Prices and Plans:
Recoverit allows users to recover 100 MB data for free. If you would like to unlock the advanced features, you can choose to upgrade to Essential, Standard, or Premium Plan:
Essential Plan:
With the essential plan, you can recover unlimited files on 1 Mac. Following are the data recovery options.
•           Restore files in 1000+ formats
•           Recover files from different devices
•           Deep scan and file preview before restoring
•           Free tech support available
Standard Plan:
Standard plan also allows access to recovering features on 1 Mac. The data recovery and bootable toolkit feature provided in the standard plan are
•           All features in the essential plan, plus
•           Create bootable disk or USB
•           Recover files from your crashed computer
Premium Plan:
The premium plan allows you to run Wondershare Recoverit on two different Macs. It provides data recovery, a bootable toolkit, and advanced recovery options. The features include;
•           All data recovery and bootable toolkit options in the standard plan and
•           Advanced video recovery
•           Repairing of corrupted videos
•           Scanning and merging of different video parts.
Pros & Cons of Using Recoverit:
Pros:
It assures good system performance since it does not use too much RAM to operate.
An innovative version of data recovery software with patented techniques and processes with video and fragment-based recovery.
Preview the files before you tap the Recover button to retrieve selected files.
Cons:
Limited features in Free version
Conclusion
The Recoverit software is highly effective for full-scale data recovery from your device with simple steps and high-quality features. Use it on your device and try the processes of recovery. Then, settle on it as your preferred data recovery tool.