Fashion companies that focus only on digital sales now face competition from high street retailers who have successfully built their own digital platforms. With all these possibilities, customers have access to more stores than ever. eCommerce businesses today have a harder time attracting repeat clients.
The objective of a clothing business is essentially the same as in every other niche: to draw customers, boost sales, and expand. Let's see what tools you may want to invest in if you want to achieve these goals.
Proposal software
You may wish to automate the process of developing and sending proposals to prospects with the help of proposal software, commonly referred to as proposal management software. The program's core functions vary, but they typically offer more than just a straightforward proposal editing tool.
The benefits of contemporary proposal software are available to everyone participating in the sales process. Every user of proposal software, from customers to customer success reps, can find a feature that suits their needs.
The capacity to quickly assess and accept offers is crucial from the viewpoint of the client. Consider yourself a potential customer who has an option between two businesses that offer comparable goods.
One company responds to your questions right away and provides you with a simple method for accepting proposals. The processing time for an initial proposal and each subsequent amendment at the other company is one or two days. Which business would you pick?
Your prospect will find it simpler to decide if you present proposals quickly using proposal automation software. Automated software can be a potent tool for the proposal process for sales specialists. Account executives can send proposals more quickly by using content production tools like automated templates that save time.
Apparel ERP tool
There are many intricate elements in the apparel sector that might affect business interactions. Here, product life cycles are shorter and demand is changing much more quickly than in other industries. There must be a brand-new collection for each season.
Businesses must also manage inventory that comes in a range of styles, fits, fabrics, colors, and sizes. As a result, it is essential to predict demand and sales in order to reduce manufacturing and delivery times while eliminating unpredictable events.
The capacity to store and preserve all data in a single system enhances the operational effectiveness of the fashion sector overall and has a favorable effect on decision-making. The appropriate apparel ERP solution makes this possible.
If you want to invest in this tool, find one that allows you to track sales activity, commissions, and order status, and offers credit card payments (with or without integrations).
Smart sizing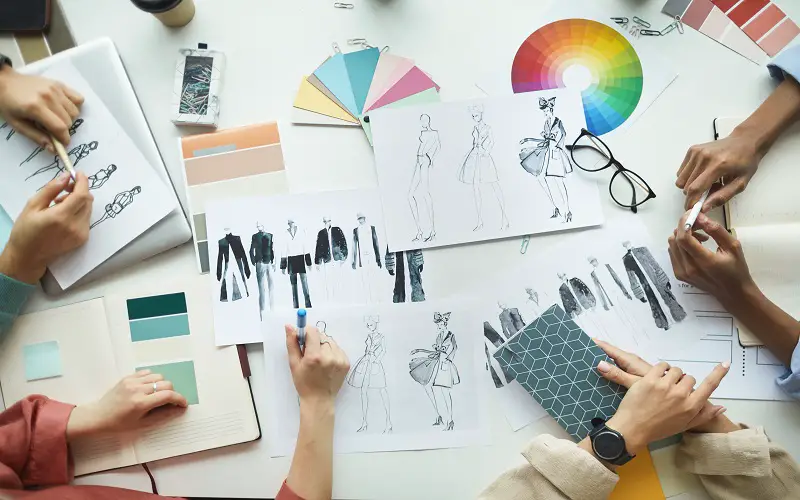 Fashion merchants face increased logistical expenses when managing deliveries and returns. An estimated 52% of eCommerce returns occur due to incorrect sizing, according to Shopify citing cost hikes from each of the major carriers, including USPS, UPS, and DHL.
By lowering or minimizing some of these expenses, fashion businesses can boost their profitability. Online merchants may recommend a more accurate fit and lower the likelihood of expensive returns by implementing clever customer sizing tools.
A retailer can also provide a more specialized shopping experience once the system contains information about the customer's actual size. The ideal fit for a customer can be automatically highlighted via online fit assistance platforms, and the search function can be modified to only show items in the correct size.
Data analytics tools
Data scientists examine, purge, group, and manipulate data using data analytics to discover insights, correlations, and trends. You need to find programmers to perform data analytics or leverage an off-the-shelf solution if you wish to advance as a fashion company. Let's take a closer look at how these tools predict consumer behavior and identify good products.
Fashion companies that actively promote their products partner with Google to make sure that their popular clothing lines appear in all of the ads that potential customers see. Designers will benefit from data analytics by better understanding the standout items in their clothing collection.
It is simple for the designer to choose the best items if they invest money in creating an eCommerce platform which contains insights and reports on the most popular products based on location or season of the year.
Sales acceleration tools
A variety of methods for accelerating sales are available, many of which your business may already use. You have a chance to enhance your sales process if you use the data provided by sales acceleration tools.
You can monitor the entire sales process, from lead capture to closing a deal, with the use of sales acceleration tools. Beyond fundamental information like conversion rates, this offers crucial data.
Although you need to know which of your sales team members are the most successful, other metrics will provide you with a more in-depth understanding of how your team works.
Most tools for increasing sales have some level of automation. This might be as easy as setting up a reminder to call customers on their birthdays or to follow up on a previous conversation, or it can be as complex as dialing phone numbers for your employees.
Final words
Remember, your niche is a very specific one in terms of tech solutions that can be used to improve your business processes. Combine your experience, skills, and talent at the office with the right tools and you will be unstoppable.