The metaverse has risen in popularity over the past few months, with everybody trying to figure out how they can benefit from it. Well, just like any other technological advancement, it bears promises, some that we have seen and others we are yet to. However, one thing is clear: when used right, it can help you speed up your journey to financial liberation.
You should be paying attention to this alternative universe, which others call a phygital platform since it bridges the physical and digital world. People have also started earning money from the different avenues it offers. This is the best article if you want to be one of them. Let's see some of how you can make money from the metaverse.
1. Creating and Selling NFTs
This is the most obvious way of making money in the metaverse for some people. non-fungible tokens became more popular in 2021, pushing investors and collectors to find out more. A few who got the hang of it early, such as Jack Dorsey, made millions from different sales.
It is believed that NFTs are here to revolutionize the art world, with artists earning as much as $69 million from their pieces. I hope that you now understand just how lucrative the metaverse is. You can quickly turn any of your creations, including memes, into digitized assets and sell them in several open marketplaces such as OpenSea.
You will first have to open a crypto wallet to make a sale. You can then link it to your platform and finally list the NFT. Either set a fixed price or let those interested in it place their bids in an auction style. Once someone wins the bid or buys your NFT, the money will be deposited into your wallet.
Also, note that you can choose to keep the token as a collectible, display it for others, or include it in a digital project. If you decide to sell it, be ready to pay a fee, popularly known as gas fees in the Ethereum Blockchain. Creating an NFT is not as complicated as most people think for anyone wondering. You only have to turn a digital asset into an NFT.
Ensure that you have a functional crypto wallet before uploading it. You will then click the create button on your preferred platform or marketplace and upload your piece.
2. Advertising
This is another common way of making money in the metaverse. You must have noticed companies striving to increase their presence in the virtual world if you have been following closely. For some, it is an advertising platform that promises huge returns.
High-end brands such as Louis Vuitton and Gucci have had exhibitions in the metaverse, selling some of their collections at higher prices than their physical goods. They can also make money by leasing and selling virtual reality ads.
Some have even taken it a notch higher by partnering with gaming platforms that allow them to sell in-game NFTs of some of their rarest editions.
Most people believe that the metaverse is just beginning, and as more people get interested in it, we will soon see its full potential. We hope that you will be part of the benefactors.
3. Gaming
Gaming is one of the biggest industries in the world. It keeps growing as the number of gamers increases. This can be easily seen from the shortage of PS5 consoles that has wrecked Sony since the company released the first batch. It claims to have sold more than 115 million consoles in the last ten years, which is probably true owing to the number of gamers worldwide.
Back to our discussion, several platforms have released play-to-earn games complete with currencies and virtual land. A good example is Sandbox, popularly known for its token SAND. Other sites such as Decentraland allow you to build your own games and benefit from them, even though you may need good programming knowledge.
All in all, when playing these games, you will make money through crypto tokens, non-Fungible tokens, or by staking. NFTs and crypto tokens are valuable items that you can trade or use to buy property in the metaverse. We expect the gaming industry to grow even more as the metaverse slowly becomes a reality.
4. Promoting and Hosting Events
Entertainment is one of the most lucrative industries in the world. From some of the concerts organized in the recent past by Fortnite and Decentraland, it is clear that artists are benefitting from the metaverse. This innovation is set to revolutionize the art and music industry.
Several virtual platforms have been hosting artists and giving users unforgettable virtual experiences. Sensorium galaxy treated users to some of the most revered EDM artists, Armin Van Buren and David Guetta, known for songs such as Titanium and Hey Mama. Fortnite has also managed to host Travis Scott and Ariana Grande in the recent past, entertaining players and selling in-game merchandise to create money. 20 years ago, nobody could have believed that we would be watching artists performing to millions of fans and making money in a completely virtual world.
This is good news for promoters and hosts such as Wave, which has partnered with several music labels to ensure musicians perform in the metaverse. We may be witnessing a transition from physical events and converts to virtual events.
If you are a musician, DJ, or performer, this would be the right time to show interest in the metaverse and earn from your craft. You are definitely going to perform to thousands, if not millions of people, recording numbers you couldn't have easily managed if you organized a physical concert.
5. Selling/ Leasing/ Managing/ Designing Real Estate
People make millions by selling real estate, precisely land in the metaverse. A good example is Snoop Dog, known for several hits such as  Young Wild and Free and Nuyjin' but a 'G' thang. He recently made headlines by selling a piece of land for a cool 450,000 dollars to an NFT collector intending to be his 'neighbor'. This should tell you just how much people are interested in making money in the metaverse. The seller may decide to hold the land and later sell it for double the price, considering that Snoop Dog is not yet done creating his own metaverse, christened the Snoopverse.
Overall, virtual land is pretty expensive at the moment, given the recent boom.
It is worth noting that this 'new' world offers you different ways of creating money from real estate. The most common is real estate flipping, where investors purchase several plots of virtual land or digital assets, only selling them when the price goes up.
You can also try real estate brokering, acting as a link between buyers and sellers or advising people on matters related to acquiring virtual lands and earning commissions. Another avenue you consider is buying land and building structures or subdividing it into smaller plots and renting it out to others. You can even allow brands or companies to advertise on your property depending on the location and earn from it.
The last avenues for creating money in the metaverse are management and design. Investors need people who can manage their property, just like in real life. Some of your roles will be thinking about ways of utilizing these lands or concert halls. You can also choose to rent them out. On the other hand, real estate design involves applying creativity to develop plots and buildings to profit virtual landowners. This is pretty lucrative as you may handle entities such as shopping malls or stadiums. Step up and start making money from the metaverse if you are a 3D designer.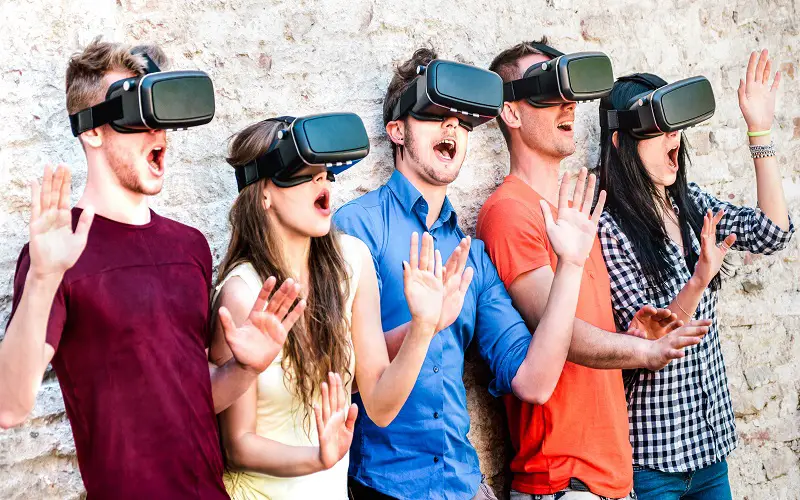 6. Selling Fashion Pieces
The metaverse has given different fashion brands and designers an avenue for making money from their creations. There has been an increase in the trade of fashion NFTs from several fashion houses such as Louis Vuitton. It is reported that Gucci once sold limited NFTs collections at higher prices than most of its physical goods. This shows that several investors are willing to splash money on worthy NFTs, especially since they can prove their authenticity thanks to Blockchain technology. They don't have to worry about counterfeits.
Other brands such as Valentino have also resorted to teaming up with gaming platforms to sell their limited editions in tokenized forms. However, note that this avenue is not limited to renowned brands only. You can create your digital clothing line, complete with original collections, and make some money by selling them.
You only need to be creative and build things that NFT collectors consider beautiful.
7. Running a Business
One of the main reasons tech companies are pushing for the realization of the metaverse is to revolutionize commerce and allow people to try new adventures without several limitations. Thanks to the endless opportunities that the metaverse offers to different industries, you can choose to open a virtual shop and start selling your products.
Companies have done it through exhibitions, showcasing, and selling products to interested people. Why can't you walk in their footsteps and come up with your store, just like in the real world? However, you will have to take care of a few things before building your store.
First, you should find a virtual space to build your store or organize exhibitions by either buying or renting. The latter is quite expensive and can be challenging to achieve for beginners or when running a start-up. Therefore, you may want to consider renting a space.
Be wise to sell things that will appeal to people. Some of the lucrative options you can settle for are real estate, clothing, entertainment, and a number of sports collectibles. Ensure that your shop is strategically placed just like in the real world. Even though most platforms only allow people to sell land and a few digitized assets at the moment, expect developers and creators to create platforms that support different types of entrepreneurs.
8. Buying and Selling of Some Types of Data
Even though this will have to be regulated once the creation of the metaverse is complete, we can't deny that these platforms are actively collecting user data. It may not be a crime in its entirety, but the main issue that needs to be addressed is how they store and use this data. Anyway, there is no cause for alarm since Blockchain transactions are some of the most secure.
The metaverse is considered the future of the internet, and just like the latter, it can obtain data from user trends, purchases, and visits. The internet also does this through websites, which generally track your webpage visits and activities.
The creation and existence of data in the metaverse is a valuable opportunity that any data scientist or analyst conversant with digital systems can benefit from.
 To help you understand how this works, different sites can benefit from metaverse data obtained from advertisement and market analysis. Investors love to know how their assets are fairing. In this case, various stores and landowners are interested in learning about the number of visits to their digital spaces, which can be obtained from these data.
Market analysis also comes in handy as real estate owners, managers and developers will always want to know how to price their land and assets based on their neighbors or fellow investors' prices.
To capitalize on this, one can buy such data from the metaverse platform, analyze it and then break it down for several users in need of the information at a fee, helping them make business decisions backed by data and proven insights. As you earn money from your services, your client will be raking in higher profits, making it a win-win situation.
9. Running a Travel or Tourism Agency
Most people cannot travel because of time and financial constraints, even though most are interested in exploring different parts of the world. The Covid-19 pandemic also made governments impose lockdowns on their citizens, negatively affecting tourism.
Luckily, virtual reality is here, and it will revolutionize the travel and tourism industry from the look of things. Virtual reality tours are increasingly becoming popular. Several real estate companies are using them to allow investors or buyers to assess the listed property before the acquisition, thus eliminating the need for physical assessments. The travel and tourism industry can also hugely benefit from this approach by offering VR traveling experiences to those interested.
We expect the metaverse to replicate our physical world, meaning that it will have several attractions in different regions that users cherish. As we wait for companies such as Meta, led by Mark Zuckerberg, to give us a detailed metaverse, you should prepare to take advantage of the tourism opportunities that are yet to come.
These tours will benefit several people, including those afraid to travel because of sea or plane sickness. Time constraints won't also be an issue since tourists will not have to drop everything in their life to go for a vacation. Lastly, the travel and tourism industry in the metaverse will definitely be cheaper than in the real world, imploring several people to book trips and tours.
10. Product Testing
The metaverse is not only set to create thousands of opportunities for investors but also for the working class. For example, we will need professionals such as tour guides and travel agents employed and paid for their services from the previous point.
Also, with more products entering the metaverse, the need for product testers will become inevitable, like in the real world. Fortunately, several companies are thinking of opening online stores where clients will be treated to various products. Clothing brands have set the pace, thanks to their exhibitions. We have also witnessed artists selling their merchandise online, especially on gaming platforms such as Fortnite.
What does this mean? Businesses will need people who can test their products and offer feedback before releasing them to everyone who can access the metaverse. This is an essential part of quality control that every business should consider investing in.
All in all, this point boils down to virtual labor, which will be in high demand in the metaverse. Most virtual landowners have managers tasked with overseeing their property, including buildings and business entities. People are also hiring digital designers to help them plan their estates and maximize their pieces of land. Snoop Dog, who is currently building his metaverse in Sandbox, has definitely contracted people to help him out.
You can make money from the universe by offering virtual labor, provided that you are good at your craft. Content creators, marketing specialists, virtual reality architects, 3D artists, and fashion designers are some of the professionals set to immensely benefit from this innovation.
Conclusion
The metaverse will offer money-making opportunities to anyone who can access it. We will most likely witness an upsurge in virtual labor and unlimited business opportunities. Therefore, come up with a plan and join the growing list of investors and professionals already making money.