If you're running a business, you know that Customer Relationship Management (CRM) software is essential to your success. A sound CRM system can help you keep track of your customers and their interactions with your company. It can also help you increase sales and increase customer loyalty. Hence, read more to know the keys to CRM success.
1. Have An Implementation Plan
The first essential thing to do is to have an implementation plan. You need to know what you're going to implement and how long it will take. Moreover, ensure your team knows when the new CRM system will be implemented, who needs training on it, and what they can expect during the changeover period.
This should also happen before you purchase a CRM system. If you don't have a CRM implementation plan, the CRM vendor will likely create one for you. However, it's best to have a working plan in place before they do this so you know what is going on and can make changes if needed.
2. Set Up Some Key Performance Indicators
It makes no sense to track data if you don't have any benchmarks against it. Hence, you need to set up some Key Performance Indicators (KPIs) to measure the success of your CRM implementation.
Some good KPIs to start with are:
The number of new leads generated.
Conversion rate from lead to customer.
Average sale price.
Customer retention rate.
Customer satisfaction rating.
Time to close a sale.
With these KPIs in place, you can track your CRM implementation's progress and make necessary adjustments along the way.
3. Consider Staff Training
There are many things to consider when starting a business, and it can be easy to forget your employees need training. It's not just the Information Technology (IT) team who will have to learn how to use CRM software as everyone in the company should know how it works.
You may not realize this right away, but over time people will begin asking questions about its functionality when they encounter problems with their system. This could lead a lot of employees down a path of frustration.
Hence, you can invest some money in proper training so all employees can understand what's going on before implementing anything new at work. This way, there won't be any confusion later on if changes happen because everyone knows where things stand right from the beginning. This means everyone is held accountable for meeting deadlines and following company procedures.
Not only will proper staff training increase your chances of CRM success, but it can also help build a more unified team. Hence, they will be better equipped to take on any challenges that come their way.
4. Integrate CRM With Other Software
Another importance of having a CRM system that integrates with other software you use in your company is to succeed in your business. This will help keep all of your data in one place and make it easy to access when you need it. Some standard integrations include accounting software, customer support software, and marketing automation platforms.
5. Keep Your Data Organized
Keeping your data organized in a CRM helps to quickly find the information you need when making decisions about your business. Make sure to create categories for each type of data and be consistent in labeling them.
For example, if you have contacts in different states, create a 'Contacts by State' category and label the fields accordingly. This will save time when looking for specific information, and you'll be able to make better decisions based on accurately compiled data.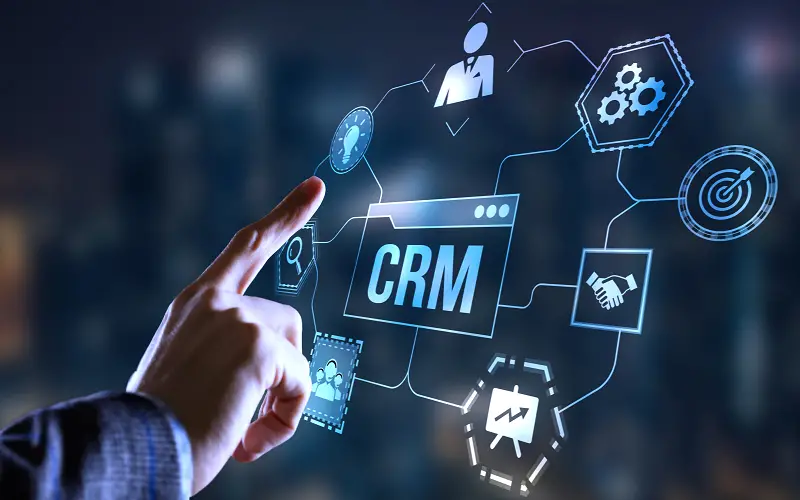 6. Make Use of Reports
Reports are a valuable tool in any CRM system. They allow you to see how your business is doing in sales, leads, and customer satisfaction. This information can help you decide where to focus your efforts to improve your bottom line. There are many different reports available in most CRM systems, so take advantage of them and use them to get the most out of your CRM investment.
7. Update Your CRM System Regularly
Now and then, review your CRM system to ensure it's still meeting the needs of your business. Ensure all contact and customer data is up-to-date, accurate, and complete. If you don't have some spare time or resources to do this in-house, consider working with a CRM consultant who can help optimize your system for peak performance.
8. Customize Your CRM System To Fit Your Business Needs
The system you choose should be able to grow with your business. It's crucial to find a CRM system that can be customized to fit your specific needs. Don't just settle for a generic system off the shelf. Hence, make sure you take the time to configure it to work best for your company. If you're new in business, you may not need all the resources required by a larger company. Choose a more straightforward system to use that doesn't have too many features that you won't use.
9. Make Use Of All The Features The System Has To Offer
Many CRM systems have an extensive list of features and functionality. These are designed to help you manage your sales processes. However, it's not always easy to know what each component does or how it helps boost business.
Moreover, take the time to read about all that's available in your CRM system so you can get more out of it for your company. The best way to do it is by trying out the features yourself. You could add contacts, create leads and opportunities, and use them effectively throughout their life cycle stages from lead generation to conversion. You may also try using advanced reporting tools and dashboards.
10. Don't Shy Away From Asking Help
If you feel stuck or overwhelmed, ask for help. You don't need to have all the answers, and trying to do everything on your own can be counterproductive. There are plenty of professionals who are more than happy to offer assistance, so don't hesitate to reach out.
Final Thought
Implementing a CRM is not easy, but it can be very rewarding when done right. Take your time and make sure you are ready before diving headfirst. Once implemented, you'll see increased productivity and data insight like never before. With the right system for your organization, integrating a new CRM platform into your business should be relatively painless.