In the digital age, having a professional online presence is extremely important. While portfolios once only existed in print and were only needed by creative professionals, today digital versions are vital tools for job seekers in every industry. Digital portfolios allow you to show off your work and your skills. They are easy to share, and they help increase your visibility and build your online presence.
Source: OoddySmile Studio/ shutterstock.com
Despite how important they have become, though, many people still don't fully understand what digital portfolios are and why they are so important for job seekers. Let's take a closer look at what they are and how having one could help you land your dream job.
What Is a Digital Portfolio?
A digital portfolio serves as a visual representation of your skills and accomplishments. It is an online collection of some of your best past work, and it proves your capabilities to prospective employers. Portfolios have been vital to creative professionals—including photographers, graphic designers, and writers—for decades. Today, however, they're used by people in just about every industry as a means of bringing their resumes to life. While a good resume tells what your skills and qualifications are, a portfolio serves as visual proof of your capabilities. Most often, a digital portfolio is your own personal website. There are several options, both paid and free, for creating your digital portfolio.
Why You Should Have a Digital Portfolio
No matter what type of job you are trying to land, there are several benefits to having an online portfolio. For starters, it serves as a professional way to showcase your past work. Your website is your own, and you can use it to share things like projects you are proud of, accomplishments, certifications, and testimonials from people you have worked with in the past. By putting all of this information in one place, you are providing prospective employers with an easy way to learn who you are and why you would be a great addition to their team.
Having a portfolio website also helps you make a great first impression. When you include a link to it on your resume, it shows that you have taken the time to put together something that shows off your capabilities and accomplishments. It also shows how committed you are to building a professional online presence.
Your online portfolio serves as an extension of your job application or resume. It allows you to market yourself beyond what can be accomplished in your cover letter or resume, and it provides a platform where you can showcase qualifications and skills that may be difficult to present in paragraph form. In highly competitive fields, having one also sets you apart from fellow applicants who do not and could make you more likely to get called for an interview. It's also a great opportunity to save on toner and inkjet cartridges.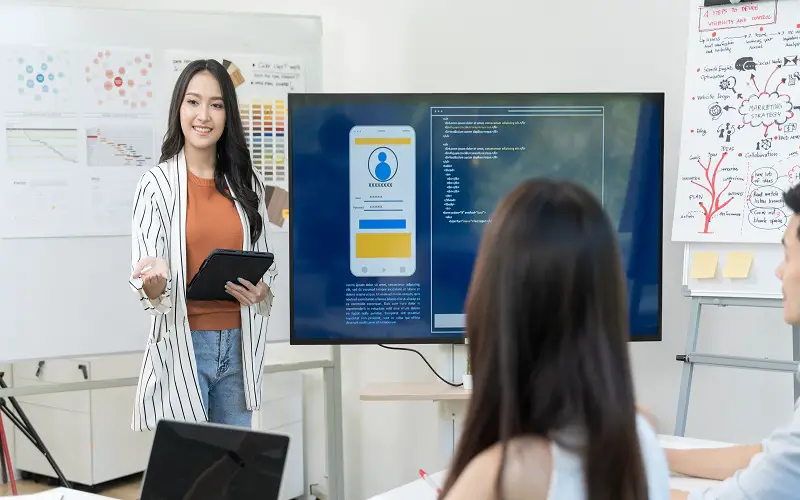 What to Include in Your Digital Portfolio
When you're in a creative industry, knowing what you should include in your portfolio is easy. If you aren't in a creative field, though, it can be a bit more difficult. Before you get started, think about why you are creating the portfolio and who your target audience is. This will help give you a clearer picture of what you will need to include to meet your goals.
While your exact needs may vary, there are a few things that most digital portfolios should include. Start with an expanded bio. Go into a bit more detail than you would in a cover letter or resume. Just remember to keep it professional and relevant to your industry. Include an appropriate, flattering photo of yourself to help prospective employers associate a face with your name.
Share overviews of projects that you have successfully completed or case studies. Whether you worked on the project by yourself or as part of a team, be sure to outline how your skills and contributions led to its ultimate success. Include links to all of your relevant social media profiles, including LinkedIn, Twitter, etc. Don't link to your personal profiles unless you use them exclusively for professional purposes. Be sure to include your contact information and make it easy to find. If a recruiter wants to hire you but can't figure out how to reach you, a seemingly great portfolio isn't so great after all.
Where to Start
You don't need to have web design experience to create an online portfolio. There are several resources that allow you to create your website in a few easy steps. If you want to create a one-page site that has room for basic info, try About.me. This site enables you to make a personal website in minutes, and it's a great choice if you are not in a creative field.
If you want to create a more traditional multi-page website, Squarespace is a good option. The platform is very user-friendly, and it allows you to design a site with a dedicated homepage, simple navigation, etc. Slideshare, Issuu, and Behance are other platforms that work well for designing and publishing digital portfolios.
Making a Digital Portfolio Part of Your Job Search
As a job seeker, you need to take steps to set yourself apart from others who are trying to land the same job. Having a digital portfolio puts you a step ahead of those who only submit applications or resumes. A well-designed portfolio makes an incredible first impression, and, in addition to showing off your relevant skills and qualifications, it shows that you are serious about your job search and about developing a professional online presence.
We live in an increasingly digital world and if prospective employers can't find you online, you could miss out on amazing job opportunities. An online portfolio helps ensure that you are seen by all the right people and strengthens your chances of landing your dream job.