Lawyers are known for their impeccable style and professionalism, and a sophisticated briefcase is a crucial accessory that complements their look. A briefcase is a functional tool for carrying essential documents and makes a powerful statement about one's personality and commitment to their craft.
Finding the perfect briefcase can be daunting whether you're a seasoned lawyer or a fresh law school graduate. With so many options on the market, knowing what features to look for and how to make the right choice is essential.
Below are tips for buying the best briefcase:
1.    Modern Convenience Meets Style: Essential Laptop Bag by Von Baer
In today's digital age, a laptop bag is vital to a lawyer's arsenal. The Essential Laptop Bag by Von Baer offers a seamless fusion of practicality and elegance.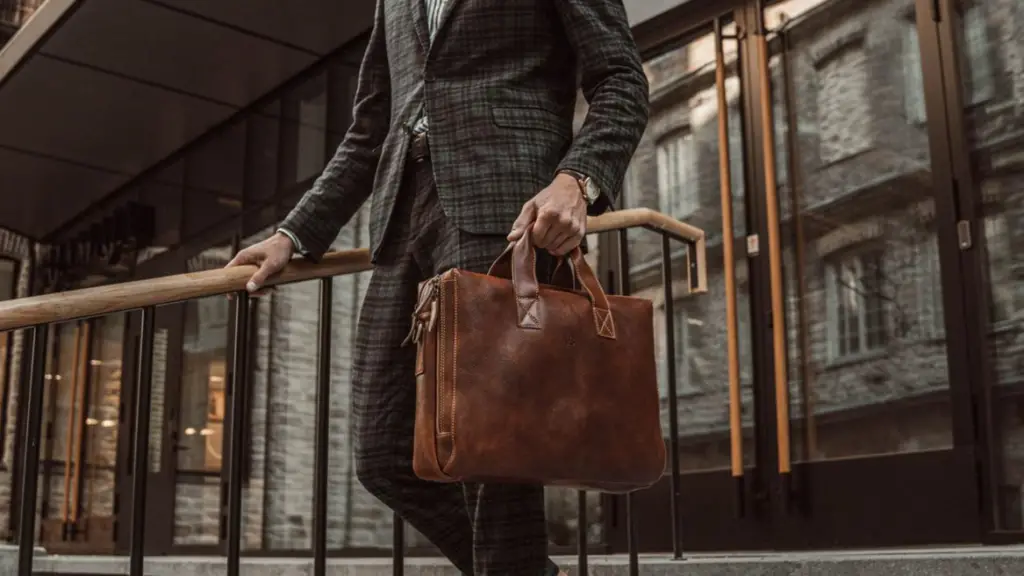 Essential from Von Baer
Crafted from premium full-grain leather, the Essential Briefcase from Von Baer epitomizes lasting durability. Painstakingly constructed in Italy by skilled artisans, it serves as a reflection of exquisite craftsmanship.
Designed to comfortably accommodate laptops up to 15.6 inches, its practical dimensions of 40 cm (16 in) in width, 31 cm (12 in) in height, and 10 cm (4 in) in depth yield ample space for organizing your essentials. Complete with a luxurious cotton lining, it adds an extra touch of elegance.
The detachable shoulder strap adds convenience to its list of features. The updated 2023 design of the Essential Briefcase represents a notable improvement, offering exceptional quality at a fair price. And despite its robust construction, it weighs only 1.3 kg (0.6 lbs), making it a breeze to carry around.
The bag also features multiple pockets and compartments for organizing documents, pens, and other essentials. Its adjustable shoulder strap and top handle allow for comfortable carrying options, whether traveling or heading to court.
2.      Aesthetics: Make A Statement With Style
As a lawyer, your briefcase is an extension of your professional image. Therefore, selecting a briefcase that exudes elegance and sophistication is essential. Opt for classic colors like black, brown, or navy, as they're versatile and complement any professional attire. An example of this is the monogrammed leather briefcases featured on designscene.net, which add sophistication and individuality to legal accessories.
Pay attention to the overall design and craftsmanship of the briefcase, as fine details such as stitching, hardware, and finishes can significantly elevate its appearance. Avoid flashy or trendy designs that may detract from a polished and professional look.
A well-designed briefcase not only enhances your professional image but also provides functionality. Look for features such as multiple compartments and pockets to keep your documents, laptop, and other essentials organized and easily accessible. Consider the size of the briefcase and ensure it can comfortably accommodate your belongings without being too bulky or cumbersome.
3.      Comfort: Carrying Your Professional Identity
A lawyer's briefcase often contains essential items, so it's crucial to prioritize comfort during selection. Look for a briefcase with a comfortable handle or strap that distributes the weight evenly and minimizes strain on your shoulder or hand. Adjustable straps can be particularly beneficial, allowing you to customize them to your preferred carrying style. Some briefcases even offer a detachable shoulder strap.
Furthermore, consider the weight of the briefcase itself. Opt for lightweight materials such as leather without compromising durability. This will prevent unnecessary strain on your body, especially during long commutes or travel.
Another aspect to consider is the padding and protection provided by the briefcase. Look for a model with adequate cushioning to safeguard your laptop and other fragile items. A padded laptop compartment is essential to prevent damage from bumps or accidental drops.
4.      Organization: Streamlining Your Legal Arsenal
Being organized is a fundamental skill for lawyers; your briefcase should reflect that. Look for a briefcase with dedicated compartments for pens, business cards, and other small essentials. A designated space for these items ensures easy access and prevents them from getting lost or damaged.
Consider additional features such as a removable laptop sleeve or a file divider to keep your documents neat and organized. Look for multiple compartments and pockets that can accommodate different types of items.
Consider the accessibility of the compartments as well. Look for briefcases with easy-to-use zippers or closures, allowing quick and convenient access to your belongings. This is particularly important for lawyers who frequently need to retrieve documents or items during meetings or in court.
5.      Technology Integration: Embracing the Digital Age
In today's digital world, attorneys rely heavily on technology. Look for a briefcase that seamlessly integrates technology, providing security and convenience for your electronic devices. Consider briefcases that incorporate technology-friendly features to enhance comfort and connectivity.
Consider investing in models with built-in charging or external USB ports, allowing you to charge your devices on the go. This feature ensures you can stay connected and powered up, even when away from a power source.
Additionally, consider briefcases that offer RFID (Radio Frequency Identification) blocking technology. This feature provides an extra layer of security by protecting your electronic devices and sensitive information from unauthorized scanning or data theft.
Conclusion
Choosing the best briefcase for lawyers requires careful consideration of functionality, aesthetics, comfort, organization, and technology integration. Balancing these aspects will ensure you find a briefcase that meets your professional needs and complements your style.