Typical Americans spend at least one-third of their life, or roughly 90,000 hours, on their jobs. That said, it's only natural that you choose a job you love and are passionate about. Unfortunately, not everyone is lucky enough to land their dream job during the first, second, or even third try. As a result, some would switch careers several times until such a time that they find a job that they can stick to for life.   
The average employee switches career about 12 times throughout their lifetime. There's nothing wrong with occasionally changing your jobs, but when done wrongly, it can ruin your chances of landing a better job or getting any job. A major career change can also be daunting and overwhelming, especially when unsure what to do next.   
So, if you're changing careers later in life for the first time or the nth time, you need to perform the necessary preparations and planning to boost your chances of landing a job that you'll love. Here are six powerful ways to prepare for a career change and successfully navigate this pivotal moment.  
1.      Assess Your Current Career  
Often, dissatisfaction with their current job is the main driving force for some employees to change careers. So, assess your current career and determine the factors you want to change or find in your next job. Here are guide questions to help you assess your current position more accurately:   
Are you satisfied with your current job role?  
Are your personal values aligned with your current company's values?  
What are your concerns?  
Are you growing personally and professionally, or do you feel stagnant?  
Are you happy, or are you searching for something more?  
Answering these questions will help you know the aspects and factors you want to find in your next career.  
2.    Identify Your Career Goals  
At this point, you may already know what type of change you want. If so, then it's time to identify your goals for your next career. For example, suppose you're a remote worker experiencing poor productivity in your current company. And so, you want to switch to another job or company that can boost your morale and productivity. In that case, you may consider finding a company that uses activity tracking on MS Teams or other work-from-home software. Employers who use tracking activity apps for their employees may help you focus more on your job, improving your productivity and morale.  
Besides that example, here are some questions to help you identify and specify your career goals:  
What kind of flexibility or lifestyle would you like for your next career?  
What skills do you have that you can utilize for your next job?  
What kind of leadership are you looking for?  
What kind of projects or tasks would you like to participate in?  
What's the size of the company you'd like to work for in the next job?  
What are your specific salary goals?  
Getting clear about your goals will make your job search easier.  
3.    Master The Skills You Need For Your Next Career  
You might not need to learn new skills if you're searching for another job in the same field or industry in which you're currently working. However, if you're switching from one industry to another, you'll need to study and prepare for a whole new qualification.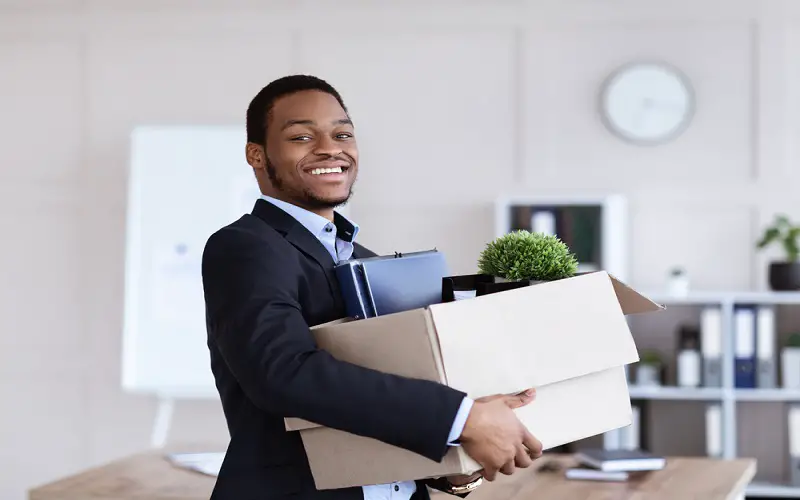 For example, if you're an office staff planning to pursue a baking career, knowing how to bake cookies alone may not be enough to qualify as a professional baker. Thus, you can take baking classes or courses to expand your skills and knowledge in baking and give you an advantage over other candidates who also aim for the same career.  
Mastering and learning new skills can mean another investment of time and money, which is why you must have a plan in place. Remember, the more equipped you are with the right skills and qualifications, the easier you can transition to your next career.  
4.    Expand Your Network
It can be risky to quickly switch to an entirely new career without knowing what you're diving into. So, take time to expand your network and search for mentors from the industry you're planning to switch into.    
For example, if you're planning to become a professional baker, you can interact with people from the food or baking industry and get firsthand information about their jobs. From them, you can gain insights into what it's like to work in a restaurant or bake shop, allowing you to have more realistic expectations.
5.    Look For Job Listings
It's recommended to avoid resigning from your current job if you have no assurance yet that you have a next job to land into. So, look for job listings to determine how many vacant positions are available in the industry you plan to switch to. As you browse for different job listings, here are some pointers to remember when deciding if this career path is the next best move to take:
How many companies have job openings available in your desired career?
What skills, qualifications, or experience do they require for these vacant roles?
How will this next career help you achieve work-life balance and a happier lifestyle?
If you think you have a better chance of landing a job role in your desired career, you can start planning your next course of action. 
6.    Plan Your Next Course Of Action
Going through the first few steps above will make it easier for you to plan your next action. At this point, you can now start creating your resume, applying to vacant job positions, and planning your target date for your career transition.
Ready For Your Next Career Move?
Many people tend to feel overwhelmed by the idea of switching careers, hindering them from growing and moving forward. Just remember that shifting to a new career will take time. But with the right plan and strategies, you can prepare for your next career move and expand your opportunities.